Wreck diving is an incredibly popular form of scuba diving.  The experience is one that simply cannot be found anywhere else as it combines diving and beautiful marine life with history and archaeology.
Of course, almost every diver embarking on a wreck dive hopes that they will find some sort of hidden treasure or artefact not yet discovered but there is nothing quite like floating through a submerged wreck, particularly when it has become a new habitat for the marine life.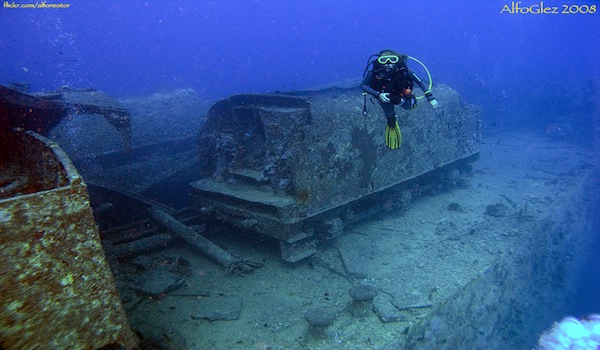 Photo Credit: alfonsator
Why Wreck Diving Is So Great?
Wreck diving really allows you to submerge yourself – quite literally – into the history of the wrecks you are looking at.  Each of them has a story to tell and sometimes it can be a very tragic one.  Most divers feel an incredible sense of awe and respect when they dive wrecks and many remember the dives for ever. 
It is likely that quite a number of people lost their lives when the wreck sunk, and this is something that you can almost feel in the atmosphere. That is Why for so many wreck diving is so spectaculair.
Another reason why wreck diving is so great is that it can be quite a challenging dive especially for beginners who have never taken part in this type of diving before. Of course, because of these challenges, wreck diving has its dangers and it is always advisable to dive with someone who knows the wreck and take additional training prior to the dive. 
Some of the dangers that most commonly lead to accidents are
Getting lost
A dive light failing leaving the divers submerged in darkness
Carelessness leading to injury due to parts of the wreck being broken off
It is very important to remember that larger wrecks in particular will be pitch black inside, and if you have no light with you, you will be completely disorientated.  Also, with larger wrecks, such as ocean cruisers for example, you may get lost in the different parts of the ship, many divers choose to use rope to prevent this from happening. 
Also read: Why do Diving Accidents Happen and How You Can avoid Them
And lastly, because the wrecks have become artificial reefs, their structures are often very fragile and can snap off when touched.  Taking good care and using your diving skills and experience should prevent these things from happening.
Best Wreck Diving 
If you want to go wreck diving, you really have thousands of choices. Some of the best wreck dives are wrecks that have been sunk on purpose to create artificial reefs. The USS Spiegel Grove and the USS Oriskany in Florida, for example, are two great examples of this as is the Pernambuco in Brazil.  However there are also disaster wrecks that can be dived.
If you are more interested in "disaster wrecks", there are many places to choose from as well. The shipwrecks off the Isles of Scilly, for example, are absolutely fantastic. The oldest wreck there is an unnamed vessel from 1305 and the list of wrecks in this location is almost endless, with the newest wreck being the French trawler Sauveterre, which sank in July 2005. 
Diving here provides a great opportunity to see how nature takes over, as you will be able to see the differences between the many different wrecks.
The four best wreck dive destinations as identified by the Encyclopaedia of Recreational Diving are:
Truk Lagoon (Micronesia)
Scapa Flow (Orkney Islands, Scotland)
Outer Banks (North Carolina) – this is also known as the graveyard of the Atlantic
Great Lakes
There are also some people that want to be really challenged by wreck dives, particularly advanced divers. For a long time, the SS Andrea Doria was classed as the most difficult dive in the world, mainly because it is at a tremendous depth. There are some other examples that are more suitable for more advanced divers, particularly those that are experienced using nitrox or trimix for breathing gas.
As you can see, if you are looking for the best wreck dives, you will first need to think about exactly what you are looking to see on your dives. Are you interested mainly in how nature takes over, for example, in which case artificial reefs created purposefully are probably the best bet. Or are you more interested in looking at history as it was made, by looking at war time ships for example. 
When thinking of sunken ships, most people immediately think of the Titanic.  This ship, however, is impossible to dive but there are quite a number of other luxury cruise liners that you are able to visit.
We know you should be properly trained when you go wreck diving. Have you ever penetrated a wreck without proper wreck diving training? Let us know in the comments below
Would you like to go wreck diving? contact us. We have multiple partners that offer dive packages and scuba lessons.
Planning a scuba trip? Then you should download the ultimate scuba dive checklist just like 5000+ other divers already so you will not forget to bring anything.
Blog written by: Rutger Thole who used to be a scuba scuba instructor but he got stuck in a suit a couple of years ago. Now he is on his way back, as a the founder of bookyourdive he travels and dives as much as he can. His motto as a start up founder and scuba diver is "The only good suit is a wetsuit"