Unless you are a one vacation a year diver, you will likely want to own your own gear at some point. Rentals are fine, however, having your own gear means no adjustments getting used to different configurations. Buying a complete kit is an investment and should be planned carefully.
Like so many other things in this online era, the traditional methods of buying your kit at a local dive center has other options, the internet.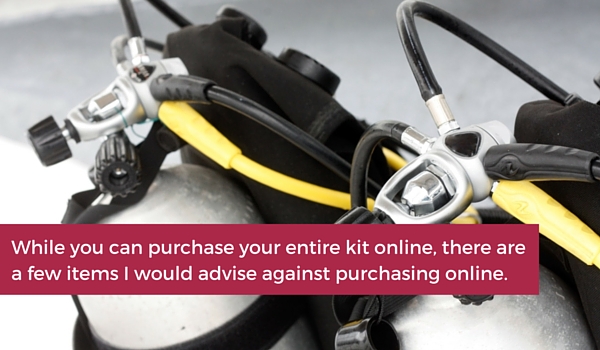 What Scuba Gear Should You Buy?
The list of scuba equipment that you can buy is very long, as you will see below. While the purchase price can add up, the basic kit has a few items. Other items may be needed based on your diving location, style of diving and any special training and interest.
The standard scuba gear that is necessary for any dive is:
Scuba Mask and Snorkel
Fins
BCD
Regulator
Dive Computer
Exposure suit depending on your most frequent diving location:dive skin, wet suit, or dry suit
Some other items you may want to consider purchasing, depending on how much and often you dive and whether you undertake any specialized dives include:
Dry Suit
Rash Vest
Dive Watch
Dry Suit Under-suit
Gloves, Boots and Hoods
Reels and Buoys
Underwater Camera
Clips and lanyards
Hoses
Dive Knife
Underwater Light
Ropes
Cylinder
Weights and belts
Also read: 5 Valuable and Easy to Follow Scuba Kit Maintenance Tips
So, where should you buy all of this?
When you shop online for scuba equipment, you will likely see that the types of store fall into one of three groups. Many dive shops will have an online counterpart. Here you will find the prices and service the same as the dive shop itself. If the dive shop is local to you, you can browse and then talk to the staff when you know what you want.
You have stores that are only online. The cost of business for an online store is generally much lower than a physical location. This means that you can often find items online below the manufacturers suggested retail price.
The online world offers you the ability to shop around for the best possible prices so make sure you check out all the possibilities.
The third would be resellers; these align themselves with companies like Amazon or Ebay. Some dive shops and even manufacturers will also use these last two, to unload old models.
While you can purchase your entire kit online, there are a few items I would advise against purchasing online.
First and most important is the dive mask. Yes, this often overlooked item needs the most care in selecting. It is very important to get a proper fit.
The second item is an exposure suit. Both dry suits and wetsuits must be an excellent fit. Unless you are buying a custom made or semi-custom made suit, it is best to try them on. When you look at the prices online, do not forget to add in the delivery cost. It can add up if you want your gear quickly delivered.
Also read: 5 Tips on How To Maintain Your Wetsuit
One pitfall of purchasing scuba gear online is the warranty.
Some companies offer what is called gray market items. This means that they were imported using a third party, not direct from the manufacturer. This could mean that the warranty terms are different from one purchase with the standard warranty in your country. It is not unheard of to purchase an item online in the US, but the item has to be sent to Europe for warranty service.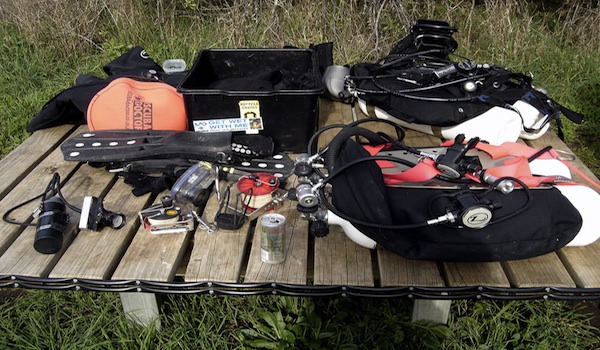 Buying Affordable Scuba Gear at Your Local Dive Shop
The local dive shop is still a very good option. You have a chance to build a rapport with the local dive professionals and possibly some other divers.
Many dive centers will have a dive club that offers its members discounts on equipment and dive trips. Some dive shops also offer discounts for those who are taking additional training from their associated diving organizations.
You will have fewer concerns purchasing face to face, and you can judge the ongoing support before laying down your money. Many dive shops run their diving schools or the other way around sometimes it hard to see which is which.
Depending on the turnover in training, they might offer rental gear for sale. Often regulators are a good choice to pick up used from a dive center. When properly maintained, they can last decades. BCD's are also a possibility but check for signs of wear carefully. Do not buy a used wetsuit.
Other Things to Consider
Once you have purchased your scuba gear, whether online or from a local diving center, you will have to consider some other things. The equipment that you purchased will need to have it serviced to ensure it stays in a good condition.
How often you service it will depend on how much you dive and the type of equipment you have.
Last but no least; there are few advantages to owning your own tanks. If you choose to buy your own tank you will also be responsible for filling and the yearly and five year testing.
How do you prefer to buy your Scuba kit? Have you ever bought scuba gear online and what is your experience? Let us know in the comments below
Article written by Rutger Thole who is an avid scuba diver and loves to travel, dive and write about scuba diving. Based in Amsterdam he runs bookyourdive.com and at least twice a year he plans a dive trip of the beaten track.