Bonaire is scattered with scuba dive sites as far as the eye can reach. In this post we pin point 5 of the best scuba dive sites in Bonaire.
Part of the Netherlands, Bonaire is an island in the Caribbean Sea that's part of the Leeward Antilles. Because of its tropical location, scuba diving is available all year long, and there are plenty of incredible scuba dive sites to choose from that are suitable for all levels of scuba divers.
The warm, crystal clear waters are perfect for observing a variety of beautiful marine species and corals, and any underwater photographer will have a blast taking photographs of the abundant sea life that calls these waters home.
If you're interested in visiting Bonaire for a scuba diving trip, continue reading to learn about five of the very best scuba dive sites this incredible island has to offer.
Scuba Dive Sites in Bonaire: Karpata
Karpata is one of the most popular scuba dive sites on the island of Bonaire, thanks to its spectacular underwater landscape that's a playground for underwater photographers. This shore dive is easy to get to, and once you dive in, you'll be able to explore the drop-off, corals, and underwater caves throughout it.
Be sure to look for the large formations of coral, particularly elkhorn coral. Sea horses, parrotfish, snappers, triggerfish, and emperor fish are also some of the common animals found at this site, which is ideal for all levels of divers, with depths ranging from 6 to 30 meters / 18 to 100 ft
Did you know that before you are allowed to do your first dives in Bonaire you need to familiarise yourself with specific guidelines?
Scuba Dive Sites in Bonaire: Bari Reef
Bari Reef is home to hundreds of marine animals and is easily accessed right from the shore. In fact, about 323 fish species have been seen in its waters.
The site is perfect for divers of all levels who wish to get close to a variety of marine animals, and it can even be explored by snorkelers.
To see the most fish, explore the depths between 9 and 18 meters / 27 to 60 ft. Look for parrotfish, flounder, grunts, Jack-in-the-boxes, angelfish, wrasses, groupers, and much more. And as you explore the reef, keep an eye out for feather gorgons and colorful sponges.
Check out this dive site at night on a night dive to see even more action.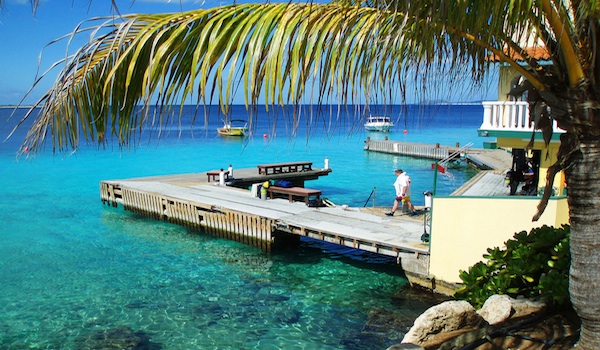 Photo Credit: Timothy Wildey
Scuba Dive Sites in Bonaire: Blue Hole
Sometimes referred to as White Hole, Blue Hole is a dive site on Bonaire that offers something different. Here, you can explore a hole that was somehow created in the coral reef. Access this site from the shore, swimming to the drop-off, where your exploration can begin.
The adventure begins at about 5 meters and descends to 30 meters. Plenty of tarpons will be swimming around you during your dive, probably analyzing you as you take in the underwater scenery.
Sharks, rays, and turtles can also be spotted here. Beware of the surge and strong current, though. If you are not an experienced diver, this site is not for you.
Did you know that the waters surrounding Bonaire are declared a marine park?
Scuba Dive Sites in Bonaire: Sweet Dreams
With a name like Sweet Dreams, you know the dive site must be fantastic. With depths that vary between 9 and 30 meters, this easy-to-access dive site is only suitable for experienced divers, thanks to its strong currents. But if you are able to get to the site, reach it by shore or by boat and then begin to explore.
You'll be able to experience a variety of large fish, turtles, and rays. Even the coral here is large and exceptionally beautiful, ranging from sponges to hard and soft corals of all kinds.
Scuba Dive Sites in Bonaire: Hilma Hooker
One of the best wreck dives in Bonaire is the Hilma Hooker. The wreck used to be a cargo ship, but it was sunk so that it would become a dive site for people to explore. It lies completely on its side, covered in beautiful orange coral.
Depths range from 10 to 20 meters and fish, such as tarpons, eels, and barracuda, have made the wreck their home.
This site is also recommended for experienced divers, and it can be accessed by shore or boat.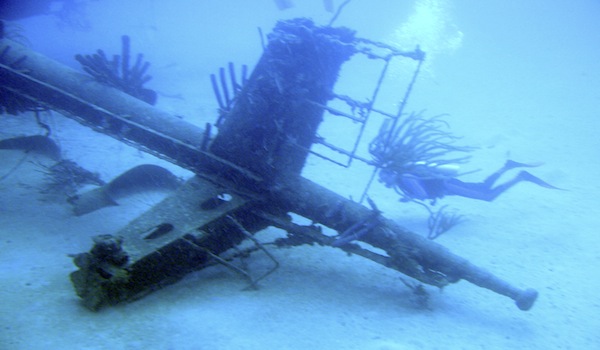 Photo Credit: aa7ae
Many of the scuba dive sites in Bonaire are accessible from shore. You will find that dive operators on the Island will offer dive packages with unlimited shore diving and car rental.
If you want to explore Bonaire to the fullest you might want to book a dive packages that offers shore diving and 2 or 3 days of boat diving too.
Don't let the urban scuba myth fool you that the best dive sites are only accessible by boat. The best scuba dive sites in Bonaire can be found in a stones through from the beach, your hotel or even a random parking lot.
Have you been diving in Bonaire or would you like to do so? Let us know in the comments below.
Would you like to go dive the best scuba dive sites in Bonaire? Feel free to contact us. We have multiple partners that offer dive packages + accommodation and scuba lessons on Bonaire too.
Enjoyed this blogpost? Sign up for our free newsletter! and get our scuba blogs delivered in your inbox.
Rutger Thole is an avid scuba diver and loves to travel, dive and write about scuba diving. Based in Amsterdam he runs bookyourdive.com and at least twice a year he plans a dive trip of the beaten track.