Dive the Gili Islands in Indonesia and find some of the most amazing dive sites in the world. Known as the Gilis, this island chain is composed of three islands that are located off the northwest coast of Lombok in Indonesia.
Divers from around the world flock here to experience some of the most intriguing sites they have ever had the pleasure of being in.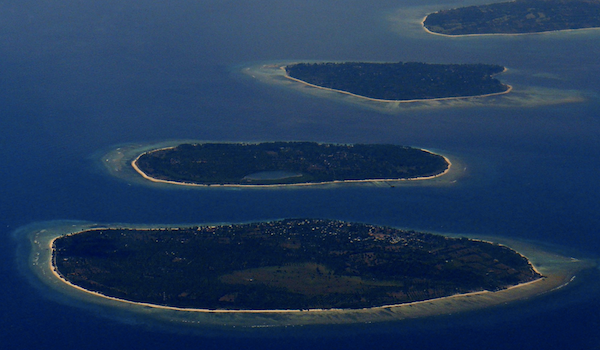 Gili Trawangan is the largest of the three islands, and it is where tourists and locals love to party and really take in life. But it is also a popular destination thanks to its sandy beaches and crystal clear waters that are perfect for snorkelling and diving.
Gili Meno is a lesser-known island, but it is perfect for those who are seeking a more laidback experience. And, finally, Gili Air is the island that is located the closest to Lombok. It features a well-developed community of locals on the island, so it's a great destination for those seeking a bit of a retreat amongst friendly people.
Why the Gili Islands are So Spectacular
The Gili Islands are, not surprisingly, one of the prime destinations for scuba diving in Indonesia. These islands are also famously known as the "turtle capital of the world," so if you love sea turtles and have been looking for a site where you can get up close and personal to them, you have found your destination in the Gili Islands.
Every island features its own great dive sites that keep people coming back for more, but in total, there are about 25 different dive sites surrounding these three islands. Choose from sites that will let you see rays and sharks to those that have incredibly colorful coral reef systems and schools of fish that are perfect for underwater photography.
When to Dive the Gili Islands?
You can dive in the Gili Islandsduring any part of the year. These islands are truly a tropical paradise and a haven for those who love to dive beneath the waves and experience what life is like underwater. The water temperature is always a comfortable 28°C, so you can book your scuba trip whenever you want to.
Marine Life in the Gili Islands
There are a variety of marine species that call the Gili Islands home, so there will certainly be no shortage of amazing sea life when you dive into the waters surrounding these islands. You may encounter black and white tip reef sharks, moray eels, a variety of rays, different types of sea turtles, octopuses, and perhaps even a whale shark.
This is all in addition to myriad hard and soft corals and plenty of large and small colorful fish, such as cuttlefish, scorpion fish, Lionfish, and parrotfish. As you can see, for the nature lover, the explorer, and the underwater photographer, these dive sites will keep you busy and wanting more.
Three of the Best Dive Sites in the Gili Islands
There are quite a few dive sites to choose from in the Gili Islands, and you can experience everything from canyons to ridges, as well as slopes and walls to explore.
Shark Point – This site is suitable for all levels of divers, from the beginner to the very experienced. It is located on the northern side of Gili Trawangan and it is a great place to view larger species of marine life, including stingrays, bumphead parrotfish, and more. You will also encounter reef sharks, many turtles, and schools of trevally. And you have the chance to explore a series of canyons that are home to a variety of species.

Manta Point – As the name implies, this site is great for spotting mantas, but you can also see reef sharks, octopuses, cuttlefish, and more. Visit anytime between the months of November and February, though, to experience very large groups of manta rays swimming right past you. This site, too, is suitable for all levels of divers. Located off the southern side of Gili Trawangan, this is one of the most popular of all of the dive sites in the Gili Islands.

Halik Reef – The Gili Islands have several sites that are great for divers of all levels, and this is no exception. Also located off the northern side of Gili Trawangan, this site features a steep slope that descends to 24 meters deep. There are also a series of gullies to explore once you reach the bottom. Swim amongst the turtles here while taking in the breathtaking beauty of hard and soft corals. If you are looking for a drift dive, this is a great place for that as well.
Feel free to contact us. We have multiple partners that offer dive packages + accommodation and scuba lessons.
Would you like to scuba dive the Gili Islands or have you been already? Let us know in the comments below
Planning a scuba trip to the Gili Islands? Then you should download the ultimate scuba dive checklist just like 5000+ other divers already so you will not forget to bring anything.
Blog written by Rutger Thole who used to be a scuba scuba instructor but he got stuck in a suit a couple of years ago. Now he is on his way back, as a the founder of bookyourdive he travels and dives as much as he can.