When we learned to dive our instructors tried to implant into our minds certain standards of how we should behave while diving. Most of the "rules" we learned dealt with interaction with marine life, and safe diving practices like buoyancy control, the buddy check, and signs, and symptoms of DCS.

These days we often hear mentions of following a code of conduct but things are not always so simple. The world is complex and often local cultures will look at different activities in a variety of ways.
A code of conduct is a set of rules outlining the responsibilities of or proper practices for an individual, party or organization.Besides taking all necessary precautions to keep yourself and your dive buddy safe, a code of conduct should be adhered to by all divers.
While Project Aware, who is is associated with PADI, has a code of conduct, the heart of the matter is that neither PADI nor SSI has a formal code. These two organizations control about 75% of new diving certifications. To many environmentalists, this is sending mixed signals.
Project Aware has asked each diver to pledge that they follow ten rules to benefit the oceans.
The rules are:
Be a Buoyancy Expert
Be a Role Model
Take Only Photos - Leave Only Bubbles
Protect Underwater Life
Become a Debris Activist
Make Responsible Seafood Choices
Take Action
Be an Eco-tourist
Shrink Your Carbon Footprint
Give Back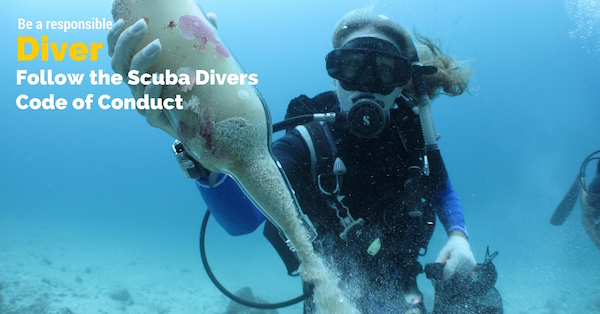 The BSAC Code of Conduct
British Sub Aqua Club (BSAC) is the Governing Body for the sport of sub-aqua diving and snorkeling in the UK. They take the safety of all divers very seriously and a diver impacts his surroundings.
The BSAC works on a club arrangement. Divers are trained by non-profit dive clubs who are members of the organization. The clubs manage themselves within the guidelines of the governing body.
The BSAC does have a code of conduct that all clubs must agree to follow, and since the clubs are made up of the divers, the divers have to agree as well to become members.
Their rules go beyond the environmental steps that Project Aware promotes and gives guidelines for activities even before diving. Their instructions include predive planning, conduct at the beach or boat pier, in water activities, conservation issues, wreck preservation and environmental issues.
While each club is expected to follow the rules, they are also supposed to adapt them to their particular location. An example of that is the brochure for the Firth of Lorn and Loch Creran Special Conservation areas. Around the world, many governments have used the BSAC code as the starting point to develop their own rules and regulations.
I would like to suggest that every diver downloads a copy of the BSAC code of conduct and makes it their code of conduct. If you have a local dive site, share it with your fellow divers and modify it, so it fits your locality. Follow both Project Aware and BSAC and help make our world better for diving.
Article written by Rutger Thole who is an avid scuba diver and loves to travel, dive and write about scuba diving. Based in Amsterdam he runs bookyourdive.com and at least twice a year he plans a dive trip of the beaten track.