A liveaboard in the Andaman Islands – a global hotspot of bio-diversity – was a delicious dream of many divers keen to explore the remote islands of this secret paradise in Asia. It was my dream too, one that I had nurtured for a long time. And finally when I felt that I had the resources to do it, I decided to plunge in – and the first step would be to acquire a live-aboard.
I quickly learnt that acquiring the boat would not be an easy task as the boats on sale were literally all over the world. Even with the Internet making the search a bit plausible, it would still be impossible to visit far flung corners of the globe and inspect each boat.
The conclusion was that the best way to acquire a sound live-aboard would be to custom design & built it from scratch. Knowing that Thailand has an evolved ship-building industry with special expertise in building live-aboard vessels, I chose a Thai naval architect and a shipyard in Phuket and set about designing & building a modern scuba diving liveaboard vessel.
Quality standards for the new liveaboard
Our goal right from the beginning was to built a liveaboard that would set new global benchmarks for specifications and amenities. I wanted to make a vessel that could sail the open seas in all weather conditions, and offer all amenities and facilities for a comfortable & luxurious stay, and be specialized in scuba diving with all top of the line equipment and facilities.
But the most important thing would be to achieve a high standard of engineering, and the best way to ensure that would be to invest in getting an IACS class survey & certification for unrestricted navigation.
After 18 months of design, construction and engineering survey, the Thai-built liveaboard Infiniti was ready and sailed to Port Blair, Andaman Islands where it is operational as the pioneering liveaboard in these pristine waters.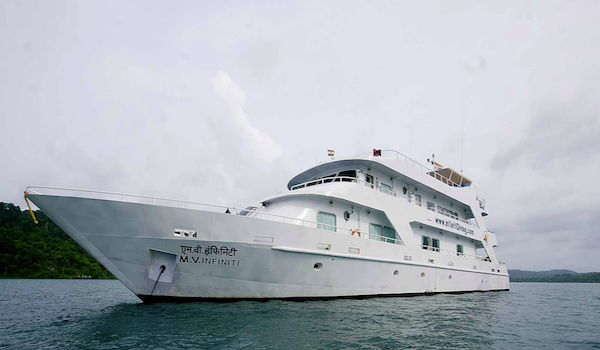 Some design elements & features of the Infiniti liveaboard:
All steel construction
RINA certified for high engineering and overall quality standards
Large size (39m) with a majestic presence in the water
Max speed of 13 knots
Spacious guest rooms nicely furnished with supersize twin beds, tons of storage, large picture windows and all attached bathrooms with hot water showers
All inside areas fully air-conditioned
Multiple relaxation areas include a beautiful indoor lounge with a library of books, DVDs and games, an outdoor lounge with a bar, a large sundeck and a romantic * aft viewing point
Six spacious and nicely furnished crew rooms, each with ensuite bathrooms
A fully equipped kitchen including big deep freezers and commercial grade appliances
A big indoor dining room for serving up the freshly prepared delicious & nutritious meals
A spacious dive deck for kitting up & diving
2 RIBs
2 Bauer compressors for fresh, pure air
Specialized for underwater photography with camera tables, fresh water tanks, charging areas in rooms & lounges, onboard computer with media center, plasma screens
Top of the line scuba equipment for rental
Well equipped for emergencies with a full fire management system including a CO-2 room onboard and an array of life saving equipments
Fully fitted with all electronics for navigation and communications in the open seas
Two generators for onboard electricity generation
Fresh water maker

Onboard laundry & storage
Onboard computer with internet connectivity
The Andaman Islands – a new dive destination for the worldwide dive fraternity
We run the Infiniti Liveaboard in the Andaman Islands, an exciting new dive destination. Andaman Islands are territorially a part of India but geographically much closer to Myanmar or Thailand. The diving is essentially comparable to other warm, tropical waters of the Indian Ocean such as Thailand and Australia.
The difference here is that the islands have been closed to all tourism & fishing for a very long time, and only recently a limited amount of tourism is now allowed here by the Indian government. They have no fishing fleet of their own and very few foreign vessels are given fishing permits here. Consequently, the waters are full of fish and marine life that has never been disturbed by the modern man.
A chance for peaceful & exclusive diving in the Andamans
The Infiniti is the only liveaboard vessel to operate in these waters on a regular basis. When you go diving to the remote islands here such as Barren Island (an active volcano) or Narcondam (an extinct volcano), you will be the only group of divers in the sea for days! Its a rare chance for the enthusiasts of the underwater world to dive peacefully & exclusively once again!
Would you like to go and dive the Andaman Islands on board of the Infinity liveaboard? Feel free to contact us.
Planning a liveaboard trip? Then you should download the ultimate scuba dive checklist just like 5000+ other divers already so you will not forget to bring anything.
Article written by Rutger Thole who is an avid scuba diver and loves to travel, dive and write about scuba diving. Based in Amsterdam he runs bookyourdive.com and at least twice a year he plans a dive trip of the beaten track.