For years scuba divers and snorkelers alike have gone to Cozumel Mexico thinking that this was the quickest and cheapest place to get a quick snorkeling and scuba diving fix. After that, the buzz went to Belize and rightly so with its Mayan ruins and Blue Hole attraction.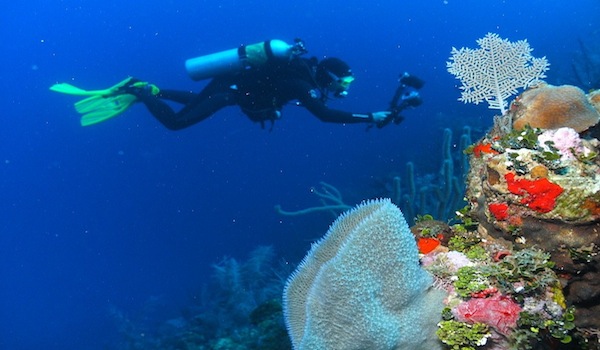 Scuba divers and snorkelers are on an endless search for new waters and scuba dive destinations. North American travelers are in the happy position of being just a short flight away from the world's second largest barrier reef, an oceanic attraction that remains a secret to be shared among the scuba diving and snorkeling vacationers.
Scuba Dive the Bay Islands, Honduras
Now, is the time for discovering a new scuba divers paradise called The Bay Islands just South of Belize. This tourist-based group of islands hosts a variety of underwater terrains in a lush tropical locale that has not only Mayan Ruins of it s own, but also majestic mountains, rainforest and barrier reef systems.
The Bay Islands, off the coast of Honduras were once called British Honduras and were also part of Belize and similarly English speaking. Looking for a less crowded Caribbean coastline lapped by turquoise waves? Try The Bay Islands. Do you want rainforest and jungle within easy reach? Try The Bay Islands.
Are you searching for casually elegant accommodation in an exotic and relaxing environment? Try The Bay Islands! All these glories are just welcome bonuses for those visitors attracted by the snorkeling and scuba diving sites just off the island beaches.
Explore the underwater world of Utila
Utila, a tiny island just six miles long and two miles wide, is one of the highlights of The Bay Islands, with particular attractions for scuba divers and snorkelers alike set in a quiet less traveled and off the beaten path setting.
Its snorkeling sites offer memorable exploration for visitors of all levels of experience. The shallow fringing reefs on the Southwest side of the island provide opportunities to see coral formations, reef fish and some larger and rare species such as Hawksbill Turtles and Eagle ray.
For visitors who want to snorkel regularly during their stay, Utopia Dive Village on Utila will provide guests with complimentary snorkeling equipment that can be checked out on a daily basis. Divers will be happy to take advantage of the complimentary unlimited shore diving available with all dive packages.
Beginners and inexperienced snorkelers who prefer to stay in their comfort zone in shallow waters will not be disappointed by the variety of exploration that is possible even in five feet of water!
Marine Life found in Utila
You should prepare yourself for some outlandish and colorful species of marine life on and around the reef such as Angelfish, Parrotfish, huge schools of blue tang, squid and lobster.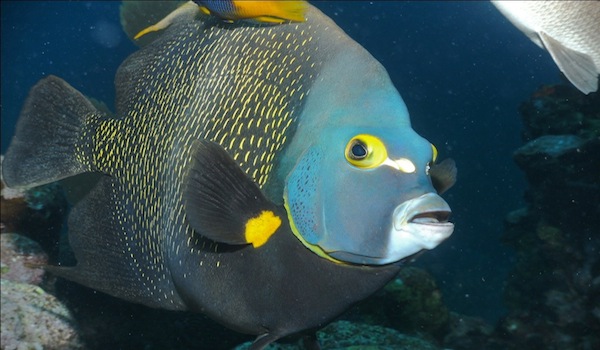 These range from the weird to the wonderful, also including exotic creatures like the reef octopus, seahorses and moray eels. Beginners would benefit from Utopia's guided snorkeling afternoons on the reef where a dive master teaches technique, safety and identifies some of the typical Caribbean fish while providing eco marine tips.
An excursion out to Utila's Cays, also available from Utopia, offers further opportunities for relaxing shallow-water snorkeling. Water Cay is particularly suited to a lazy afternoon, with its white sands and palm trees providing that genuine Caribbean paradise atmosphere, and idyllic snorkeling sites just off the beach.
Experienced and adventurous divers will be thrilled by the anticipation of the huge coral formations at Utopia's house reef. They begin 30-50 feet below the water and stretch up to the surface like giant mushrooms!
There is no diving or snorkeling experience to rival being at the edge of the deep looking out into the abyss! The bonus is that the waters are not crowded, so there is plenty of room to explore at your leisure.
Swim with Whale Sharks in Utila
Snorkeling With Whale Sharks is arguably one of the most exciting snorkel opportunities and at the top of many people's bucket list. These gentle plankton-munchers have a year-round home in the waters off Utila, and you are encouraged to bring your snorkel gear on excursions to swim with the sharks and with dolphins. There have also been Hump back whale sightings in late August.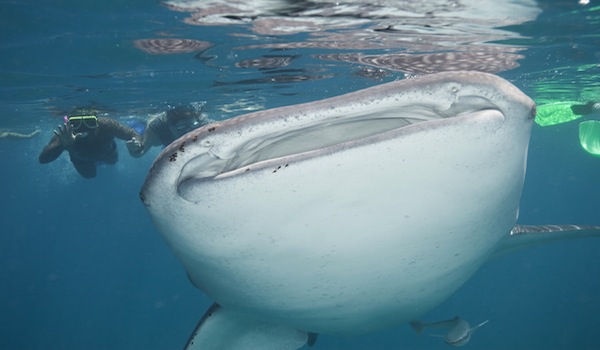 In-between snorkeling expeditions, there is plenty to see and do on Utila, the neighboring islands and the mainland. Try zip lining through the rainforest, white water rafting, hot springs and mud baths or hiking along jungle trails to picturesque waterfalls.
Travelers who are unfamiliar with the joys of The Bay Islands can be reassured by the knowledge that hotels and restaurants will accept US dollars, electrical voltages are North America standard and it is overall a hospitable vacation destination.
International flights from Miami, Atlanta and Houston take just 2.5 hours to reach airports on Utila's sister island of Roatan or San Pedro Sula on the mainland. Utila is reached by a quick transfer via plane or boat. You can be snorkeling or diving on the reef just a few hours after leaving the USA.
Planning a scuba trip to Honduras? Then you should download the ultimate scuba dive checklist just like 5000+ other divers already so you will not forget to bring anything.
Would you like to discover and scuba dive Utila? Let us know in the comments below
Blogpost written by:
Angelika Lukacsy is an Entrepreneur with a passionate spirit for design, travel and the environment. Having witnessed 9/11 up close and personal, Ms. Lukacsy decided to go for her dreams and sail the great Caribbean loop while exploring real estate, publishing sailing articles and diving and snorkeling amazing reefs along the way. Upon arriving in Central America, she was fortunate to combine all her passions to create Utopia Dive Village with a group of like-minded friends that understand the meaning of Carpe Diem "Seize The Day"!