Scuba diving in Komodo is done within the Komodo National Park, which is located on the Lesser Sunda Islands in Indonesia, was founded in 1980.
The goal was to protect the incredible Komodo dragon that calls the region, which consists of 29 islands in total, its home.
Once the Komodo dragon and its habitat on land were protected, additional protections were created for marine species and other creatures that thrive on the islands as well.
Today, the Komodo National Parkis a UNESCO World Heritage Site and one of the most popular places for scuba divers in South East Asia.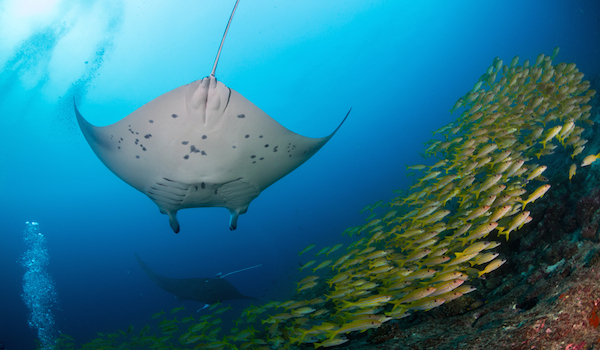 When is the best time to scuba dive Komodo?
Scuba diving Komodo between March and June offers the best conditions, as does the period from September to December. In July and August, the island gets quite a bit of windy weather, and the southern dive sites may become too dangerous.
Manta rays are most abundant from December through February, but this is also the rainy season. And the visibility will be best from November through January. From January through March, the conditions could be difficult and choppy.
Scuba dive Komodo as an intermediate or advanced diver
Because of the conditions of the majority of the dive sites in Komodo, it's best to be an intermediate or advanced diver if you plan on scuba diving Komodo.
Also, a Liveaboard trip to Komodo is the perfect way to visit a variety of Komodo scuba dive sites during one trip.
How to Get To Komodo?
Because Komodo Island is located in the middle of the Indonesian archipelago, one of the simplest ways to arrive there would be to fly into Indonesia first.
Then make your way to the island of Flores. Once there, book a ride to Labuan Bajo village. From there, you can book a ferry ride that will take you right over to Komodo.
Or you can instead make your way to Sumbawa Island's Sape city. And from there, you can once again book a ferry ride to Komodo. This route, however, is more likely to be disrupted by inclement weather.
Just be sure to plan accordingly and in advance, as ferry services aren't available every day. In fact, the services from Labuan Bajo are only available, on average, 2 or 3 days per week.
Have you been scuba diving in Komodo? Or would you like to do so? Let us know in the comments below
Feel free to contact us. We have multiple partners who offer dive packages + accommodation and liveaboard trips to Komodo
Article written by Rutger Thole who is an avid scuba diver and loves to travel, dive and write about scuba diving. Based in Amsterdam, he runs bookyourdive.com and at least twice a year he plans a dive trip of the beaten track.