Most divers who came back after scuba diving the Andaman and Nicobar Islands claim that they provide them with an unforgettable and truly unique experience like no other.
The Andaman and Nicobar Islands make up roughly 600 islands that are located where the Andaman Sea and Bay of Bengal come together, and they're one of the most sought-after group of islands on the planet for scuba divers.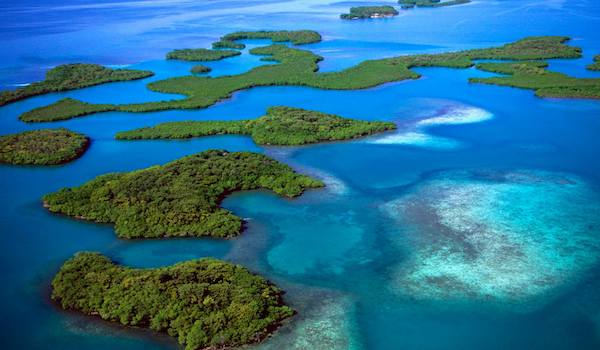 One of the main aspects of the Andaman and Nicobar Islands that differentiates them from other prime scuba destinations on the planet is the fact that, in addition to being a haven for an gorgeous coral reef system, the marine life is largely untouched by humanity.
Therefore, scuba diving the Andaman and Nicobar Islands means you'll really be able to catch a glimpse of what nature in all its glory really is. Rather than being witness to humanity's negative impact upon such delicate underwater ecosystems, at the Andaman and Nicobar Islands you can enjoy a truly pristine environment.
What is the best time to scuba dive the Andaman and Nicobar Islands?
One of the most appealing features about the Andaman and Nicobar Islands is the climate. The temperature throughout the year ranges from 23°C to 31°C, or 73°F to 88°F, so you can always rest assured you'll be comfortable, no matter what month you decide to travel to the islands. Nevertheless, the months of December through April, in particular, are the best times to visit and scuba dive the Andaman and Nicobar Islands and to enjoy the rich and diversified marine life.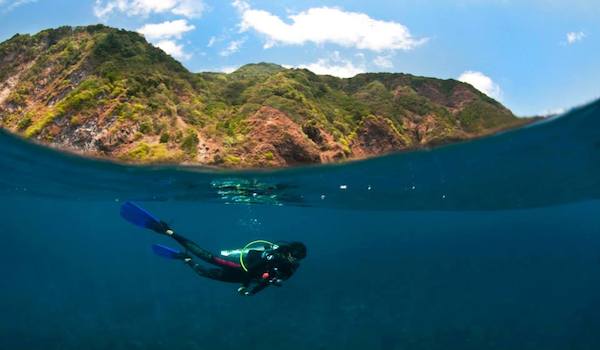 Keep in mind that, especially during the latter part of the summer, there's a higher chance you'll have to deal with rain, including tropical storms that can put a damper on your entire scuba trip. The summer season in this part of the world runs from March through May, and humidity tends to be higher during this time of year as well.
The monsoon season in the Andaman and Nicobar Islands ranges from May through August, with June through September being the months most prone to heavier rainfall. Yet it's still a great time to visit the islands to experience the many tourist attractions, especially since the rains make the local vegetation bright, green, and beautiful.
How to Get to the Andaman and Nicobar Islands?
You can reach the Andaman and Nicobar Islands by air or by sea. Several airline companies, including Air India, Jet Lite, and others, will take you to Port Blair, which is the gateway to these islands.
Passenger ships operate regularly from Kolkata, Visakhapatnam, and Chennai, and they will all take you to Port Blair. Keep in mind that, if travelling over sea, it can take a few days to arrive at your destination.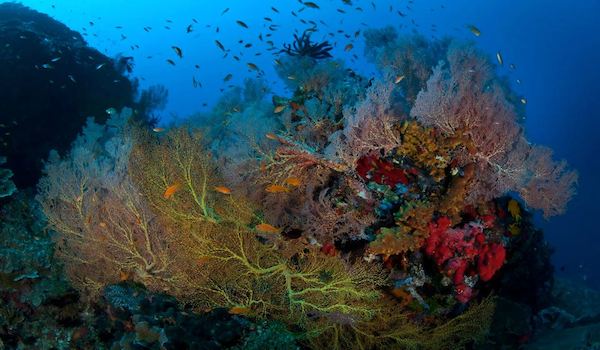 3 of the Best Dive Sites found at the Andaman and Nicobar Islands
Narcondam Island – This dive site is known for its very large fish and corals, including sea fans, barrel sponges, sharks, manta rays, and mobula, as well as its great visibility. There really is something here for everyone, from sandy areas and coral pinnacles to canyons and walls that drop to more than 700 meters, thanks to the fact that this is actually an extinct volcano.
Scuba Diving the Andaman and Nicobar Islands is not complete with a Liveaboard trip to Barren Island.
Barren Island – This is another scuba dive site where visibility can be exceptional. This active volcano features black sand slopes, vertical walls, and ridges. Also be prepared to experience a possible eruption, which occurs regularly and blankets everything above and beneath the water in black sand.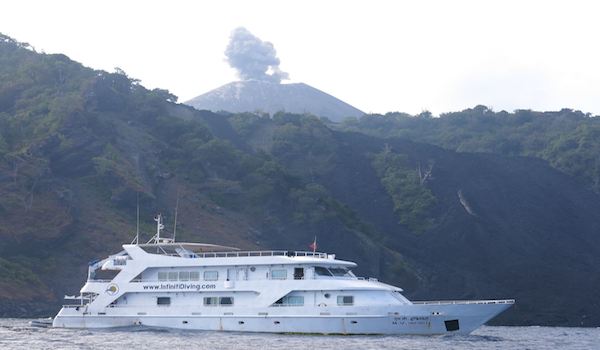 Sharks that include hammerheads, gray reef sharks, silvertips, and white tip reef sharks are seen by experienced divers during deep dives here. Tuna and large barracuda also make their home here, though you will not see many colorful corals as a result of the damage by the volcanic eruptions.
Havelock Island – Havelock Island features a few different dive sites to explore, featuring coral gardens, sloping walls, a wreck, and channels with mangroves. In addition to a variety of fish species, you can find rays and even turtles, if you're lucky, as well.
What To See below the surface at the Andaman and Nicobar Islands?
Because the Indian government takes such great care to preserve the natural resources and wildlife that surround the Andaman and Nicobar Islands, you're guaranteed to see a variety of species once you dive beneath the surface of the water, and you really shouldn't be surprised in the least when you find yourself surrounded by many beautiful schools of fish.
In fact, that's exactly what makes diving in the waters of these islands so exhilarating. From large sharks and rays to larger-than-average corals, these islands provide a breathtaking underwater scene you'll never forget.
Secure your spot today! :)
Would you like to scuba dive the Andaman and Nicobar Islands? Let us know in the comments below
Feel free to contact us. We have multiple partners that offer dive packages + accommodation and scuba lessons too.
Enjoyed this blogpost? Sign up for our free newsletter! and get our scuba blogs delivered in your inbox.
Article written by: Rutger Thole who is an avid scuba diver and loves to travel, dive and write about scuba diving. Based in Amsterdam he runs bookyourdive and at least twice a year he plans a dive trip of the beaten track.