You've probably heard of beach cleanups, but did you know that divers can also set up their underwater cleanup event to collect debris that has made it way into the water?
Like beach cleanups, this is an important step in maintaining the beauty and cleanliness of the water, as well as the safety of the animals that call it home.
So how can you go about organizing an underwater cleanup? Continue reading for a few tips to get started.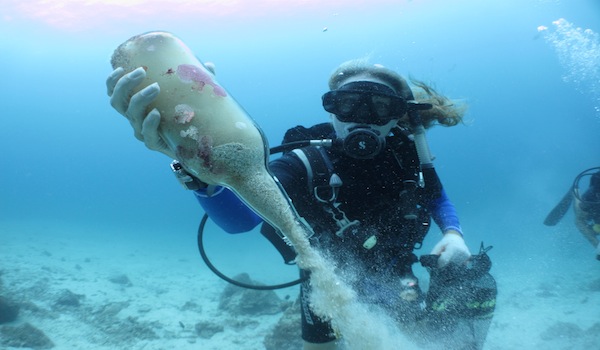 Pick Your Cleanup Site
The first step in planning an underwater cleanup is locating the appropriate dive site. Some sites are in better shape than others, so you may want to focus on dive sites in the area that are in dire need of cleanup.
A good spot would also be one that a lot of scuba divers can easily access, as well as one that they regularly dive. Whether it is a local reef, a local beach or a body of water that many people use or pass by consistently.
If you choose a cleanup site that is close to areas where people live, work, and play, you will probably find that more people realize the need for the cleanup.
Also read: Have you heard about the Great Pacific garbage patch?
On the other hand, if you want to set up a cleanup at a reef that is further away from the shore, you may find it more difficult to get people involved. Especially if they are not divers, as those, who do not dive, may not be able to relate to the importance of cleaning up these offshore reefs.
Choose Your Cleanup Day and a Name
Next up is choosing the date of your cleanup. Be sure to give yourself plenty of time to set the whole event up and promote it.
But don't plan it too far in the future, or people will forget about it. A good rule of thumb is to plan it just a few months ahead of time, taking into consideration other events that may clash with yours.
It's also a good idea to choose dates that are symbolically connected to your cleanup, such as Earth Day or World Ocean Day.
But in addition to choosing your date, you also need to create a name for your event. This, too, could get people interested or turn them away, so take the time to come up with a great name like "Save our Reef!"
The more powerful, and the more it can evoke images and emotions in people, the more effective the name will be at getting participants.
Also read: Environmental Awareness and How to Contribute as a Diver
Get Local Divers and Organizations Involved
After you have chosen your site, data, and the name, it's a good idea to contact individuals within your local diving community.
This includes diving clubs, diving schools, and dive shops. Ask them to participate, as well as to share the details of your event with everyone that they know.
For example, they can post flyers, put information up on their websites and social media pages, and discuss the event during classes or sessions with other divers.
You can also contact international, national, and regional organizations that handle environmental projects, water sports, and diving. These may include PADI, NAUI, and Project AWARE. If they can help promote your event and put their name on it, it adds to your credibility.
These individuals and groups will know the importance of what you are doing because they spend so much time appreciating the beauty of the underwater world, so they will likely be willing to help you promote the event.
It's also a great idea to ask local businesses and organizations if they'd like to sponsor your event by providing everything from t-shirts and refreshments to rental diving gear. They get to promote themselves while helping your event.
Why clean ups are important?
Promote Your Underwater Cleanup
Use local media channels, including print, radio, and TV outlets with regional or national reach, to promote your event and increase awareness of your cause.
Also, take advantage of press releases and social media sites to reach more people and promote the event.
After the Event…
After your event has gone off smoothly, contact those involved and thank them for their help. Share as much information as possible regarding how much of an impact you all made, such as how much debris was collected.
All of this will help you plan similar future events, especially if you're able to keep people interested by setting up a mailing list.
Have you ever organized or attended an underwater cleanup? Let us know in the comments below
Enjoyed this blogpost? Sign up for our free newsletter! and get our scuba blogs delivered in your inbox.
Article written by Rutger Thole who is an avid scuba diver and loves to travel, dive and write about scuba diving. Based in Amsterdam he runs bookyourdive.com and at least twice a year he plans a dive trip of the beaten track.