Blue holes are underwater sinkholes or caves found throughout the world and can often be found in low-lying coastal areas. Are you an avid diver, who's always looking for the next great dive site that will provide you with an unforgettable experience?
If so I am sure you will love the five blue holes you can dive described in this article.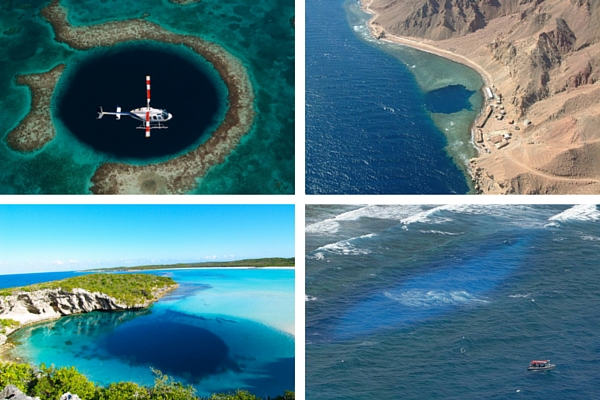 1. The Great Blue Hole in Belize
The Blue Hole is found off the coast of Belize, near the middle of Lighthouse Atoll. This circular dive site (sinkhole) is more than 300 meters in diameter and 124 meters deep. The Great Blue Hole is an integral part of the Belize Barrier Reef Reserve System, considered one of the most beautiful places on Earth and was added to the Unesco World Heritage list in 1995.
How to get to the Great Blue Hole in Belize?
Many international flights arrive in Belize every day, and that will be your first step in getting to the country's famous dive site. If you want to book a day trip to the Blue Hole, it would be best to do so from Ambergris Caye.
Keep in mind that trips to the Blue Hole leaving from the mainland or Ambergris Caye can only be confirmed 12 to 24 hrs before departure. The boat trip takes you across open water, and embarkation is dependent on the weather conditions. Expect a somewhat rough but beautiful 3hr boat ride before you get to one of the best dive sites in Belize.
If you have more time to spend then one day, you might want to book your stay at a resort closer to or even within the Lighthouse Atoll like with one of the resorts mentioned below.
This is a deep dive, and you will decent to about 130 feet where you will find the "cave." Divers with no previous experience with deep dives should not be tempted to visit the Blue Hole. Therefore, divers with and advanced certification will do best at this site. Even if you are a certified advanced diver but do not have any prior (positive) experience with deeper dives, you should not do this dive.
Why should you dive The Blue Hole in Belize?
The Blue hole is not the most beautiful dive site in Belize, and it never will be. Nevertheless, it is a magical place where you drop down into the blue to decent along an ancient wall. When you reach 36 meters, you will find the "cave" decorated with fossilized stalactites. (Keep an eye on your buddy because at these depths nitrogen narcosis will kick in) Swim through the cave and start your ascent. When you get lucky, you might even encounter one of the resident black tip reef sharks. Do not forget your safety stop at 15ft of 5 meters.
Also read our trip report: Diving the Blue Hole in Belize
2. The infamous Blue Hole in Dahab, Egypt.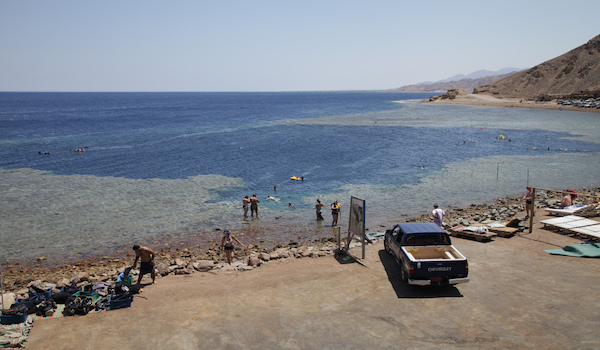 The Blue Hole in Dahab is Dahab's signature dive and, therefore, one of the most popular dive sites too. It's located a few kilometers north of Dahab in the Red Sea, and it's about 130 meters, or nearly 463 feet deep. There is also a tunnel inside the Blue Hole called "The Arch" which is roughly 26 meters in length and starts at a depth of 56 meters or 184 feet. Editorial Note: You should never try to dive the arch when not properly trained!
Accessing the blue hole is easy because it's a shore dive, so all you have to do is make your way to Dahab and sign up for a refresher dive with one of Dahab's many dive centers before you head out to the Blue Hole.
Who should dive the Blue Hole in Dahab and who not?
Too many divers have lost their lives at this dive site already, so you should be an advanced and comfortable diver, using his common sense before you enter the water. The water is clear, warm and calm as well with a relatively easy entry which makes it's inviting to a lot of divers from around the world. But divers get a false sense of security, often going beyond their limits, losing focus, and ending up dead. So remember always dive within your limits and stay within your comfort zone
Also read: Why divers die when they dive the blue hole in Dahab?
3. Dean's Blue Hole Bahamas
Dean's Blue Hole in the Bahamas is the world's deepest Blue Hole. Its entrance is below sea level, and it goes down to an incredible 202 meters, or 663 feet. Because Dean's Blue Hole is a shore dive, it's very easy to access it off the beach roughly 3 miles north of Clarence Town on the southern portion of Long Island.
Who should dive Dean's Blue Hole and who should not?
All levels of divers and snorkelers can enjoy a safe experience, provided they stay within their limits. Because land protects Dean's Blue Hole on three sides, the wind and swells do not get into the "Hole" itself making it one of the best (free) dive locations in the Bahamas.
4. Blue Hole in Gozo, Malta
One of the most sought-after dive sites in Gozo, Malta is the Blue Hole. The site overlooks the amazing Azure Window, and it begins in an inland sea pool that's 10 meters wide. This leads to a large crevice, and then you'll found yourself going out into the open sea. Once you arrive in Malta, make your way to Dwejra in Gozo. The Blue Hole is located right in front of Azure Window at the southern portion of Dwejra Point.
Who should dive it and who should not?
Experienced and new divers can enjoy this site because there are many routes and depths throughout that you can choose, depending upon your experience. Just hook up with one of the dive centers in Malta and decide with your dive guide what the best route for you will be.
The Blue Hole in Malta is a unique dive experience compared to a "regular" reef dive, which makes it so beloved by divers around the world. At the beginning of your dive, you'll encounter a huge arch made of solid rock. Swimm through, and you'll be in a tunnel filled with beautiful rock formations and marine life that includes eels, lobsters, octopi, and different kinds of reef fish. Move on to your way to the coral garden or the cave to explore further.
5. The Blue Hole in Bonaire aka The White Hole
This dive site on Bonaire is technically a Blue hole but is referred to as the White Hole. The White Hole is one of the best dive sites in Bonaire and offers depths that range from 4.6 meters, or 15 feet, to 30.5 meters, or 100 feet. The reason the Blue Hole is referred to as the White Hole is because the fairly shallow bottom (40ft) is covered with pearly white sand.
How to get to the White Hole in Bonaire?
This dive site is located on Lac Bay on the east side of the island. When you would like to dive the famous White Hole, it would be best to hook up with one of the dive operators on the Island to book a boat dive or 2.
You can get to the White Hole from the shore too though it will require a long walk first through shallow water and then you need still need to find the Hole itself. This option is only for divers who are on a budget and are up for an adventure and is not recommended This location is good for divers who have plenty of experience. You should be comfortable with diving in an area that has strong currents and surge.
What are your thoughts about these 5 Stunningly Cool Blue Holes? Have you dived one of them already? Let us know in the comments below
Feel free to contact us. We have multiple partners that offer dive packages + accommodation and scuba lessons too.
Article written by Rutger Thole who is an avid scuba diver and loves to travel, dive and write about scuba diving. Based in Amsterdam, he runs bookyourdive.com and at least twice a year he plans a dive trip of the beaten track.