Liveaboard diving around the Galapagos Islands, just thinking of it brings forth images of strange land and sea animals, underwater documentaries about pelagic species and your basic science lesson on Darwin's Theory of Evolution.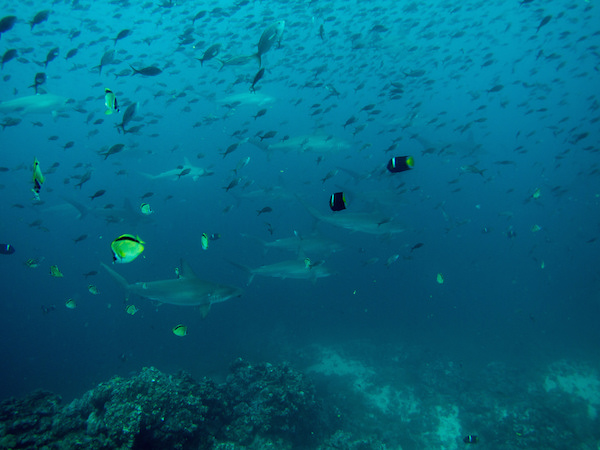 Photo Credit: Lucy Rickards
For many divers, a liveaboard trip to the Galapagos Islands is the equivalent to a runner entering the New York Marathon, a lifelong dream. The New York Marathon requires training, and you have to be qualified to enter it. Like the NY Marathon, a liveaboard trip to the Galapagos is not for everyone.
It requires training and skills that only experienced divers can safely enjoy. If you want to join deGalapagos liveaboard trip, you must feel comfortable in diving in currents, colder water and possible rough surface conditions.
Many of the liveaboard operators in Galapagos require that you have logged at least 100 dives. If you do not meet these requirements, then it would be better if you stay at a land-based resort and enjoy the great land-based diving that Galapagos offers.
That said, Galapagos is by no means and advanced divers destination only. Novice and experienced divers or those that want to do more then dive, eat, sleep and repeat, will definitely enjoy the dive sites that surround the inner islands.
The Galapagos Islands lie about 1,0000 KM from the nearest continent
This isolation is one of the principles behind Darwin's theory why animals here are different from anywhere else in the world. The island chain is also the point where three ocean currents come together, which brings both tropic and temperate waters and their corresponding nutrients to the islands.
These current are:
The Humboldt current
Panama Current
Cromwell Current, aka the Pacific Equatorial Undercurrent.
There are no short liveaboard dive trips available in Galapagos
Seven to ten-day liveaboard trips are the most common with some longer. Two-week combination packages with a week long liveaboard followed by a week on land in a resort is another great option. While staying at a land based resort, you can mix dive days with land trips exploring the nature trails.
If you are an experienced diver looking for an exciting dive, here are five reasons why you should consider a liveaboard dive trip to the Galapagos Islands at least once in your life
1. Only a liveaboard will enable you to dive Darwin and Wolf
The diving in Galapagos is unmatched in the world, and you will hardly find a diver who can cite a different location with the diversity and biomass of marine life you will find in this island chain.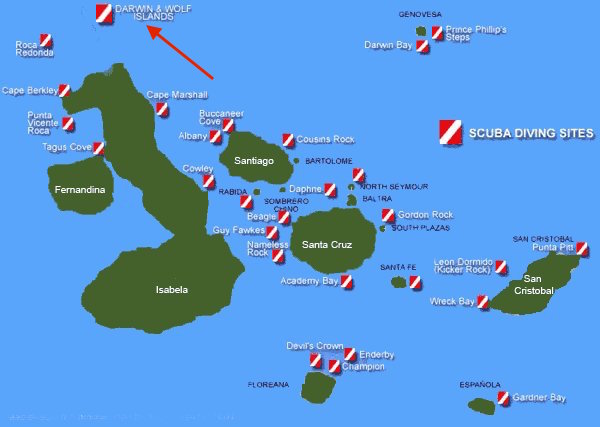 You will find excellent diving everywhere in Galapagos, this could make you wonder why a liveaboard vessel will make an overnight trip covering 350 km to dive two small islands, Darwin and Wolf with only four dive sites.
Wolf Island is the southernmost of the two islands, (and only accessible from a liveaboard) therefore, it is the one you will likely dive first after your overnight trip. As you step out on deck in the morning, you will start to understand why the area is so beloved by divers. It is common to see dolphins breaching around your boat, and a glance into the water will likely reveal rays, turtles and, a playful sea lion or two.
Also read: Dive into the new Galapagos Marine Sanctuary of 15,000 sq miles
There are three dive sites around Wolf Island, which lies within the protected marine sanctuary and, you are not allowed to go on land. The dive sites found at Wolf Island are:
Landslide
the Caves
Shark Bay
On each of these dive sites you, are just about guaranteed to see lots of sharks, rays, dolphins and turtles on each dive.
Landslide
This dive site is named for the appearance of the slope of the site. Large boulders and rocky outcrops give the appearance of a fresh landslide. The barnacles covering the rocks tell you it is not fresh. Still, you need to be careful that you do not dislodge anything and send it rolling down the slope.
Divers gather with their group at about 10 meters depth before heading down the slope. Moray eels and reef fish are plentiful at this depth on the slope and in the water in front of you, you will likely see tuna, snappers and turtles as they rise from the abyss.
When the current is running, it is probable you will see schools of Hammerhead sharks as well as Galapagos sharks. When the current is lax, it may be necessary to move away from the slope to view down into deeper water to see the schooling hammerheads
The Caves
Dive site "The Caves" at Wolf Island consists of a series of swim-throughs and a small cave. As you exit each, you will be greeted by sharks and rays that tend to stay by the exits. The second swim-through is a favorite hang out for the Galapagos shark. You will explore a cave that is covered in soft white coral.
Leaving the cave, the dive continues to the wall, and you enter a swift current that takes you out away from the wall into schools of Wahoo, Jacks, Galapagos grunts, Peruvian grunts, and Amber striped scad that aggregate in breath-taking numbers off the wall. As if designed by a diver, the current brings you back to a shallow area where the current disperses.
Shark Bay is about diving with sharks
Diving the Galapagos Islands is mostly done with guided groups and at Shark Bay, the group gets together at the 8 to 10-meters depth along the slope. At this depth, there is some surge of the water crashing against the island, and you will likely be followed by sea lions who love to swim and play in the waves.
After "sitting" quietly for a few minutes, it is probable that a sea lion will approach you to look you over. The main attraction of this dive though is a little deeper at 25 meters. At this depth, the slope ends and looking up you will see schools of hammerhead sharks overhead. You allow the current to take you along the face of the slope and enjoy a variety of sharks and rays.
Also read: When is the best time to dive with Hammerhead Sharks in Galapagos?
Explore the underwater wonders of Darwin Island
Darwin Island is also nearby, and it has just one dive site starting at Darwins Arch. Darwin Island has an unusual mixture of colder and warm water species, and they are in abundance on this site. While it is only one dive site, it has three profiles that offer entirely different dives. They are so different you would expect to be many kilometers away from your last dive on the same site.
2. If you love diving with sharks, Galapagos is the place to be
When you embark on a liveaboard trip in Galapagos that will take you to remote islands up north, you can expect to be surrounded by sharks on virtually every dive and in numbers, you probably not have seen before. Sightings of schools of hammerheads numbering 300 or more are quite common. Smaller schools and individual sightings of the white tip and black tip reef sharks and Galapagos sharks are also in abundance.
Also read: 7 shark species you will encounter when diving in Galapagos.
3. Encounter unique wildlife above and underwater
Admittedly, most of the unique wildlife live on land and not the sea. The Liveaboard boats in Galapagos seldom visit any of the islands though some do have a half day exploration on land.
There is some marine life such as the marine iguanas that you will see nowhere else except on the Galapagos Islands. These lizards spend most of their time in the water but do live on land. Each island is the home to a different in size and color.
Another aspect of the marine life is that man has not made a huge impact in their presents yet. Marine life especially larger species like sea lions, accept divers as a part of the environment, allowing closer contact than in most locations.
4. Dive with big pelagics like Whale Sharks
"The poorer the visibility, the better" a statement that seems to be in contrast with the way ordinary divers feel. However, it is all relative. Most of the dive sites that the liveaboard boats in Galapagos visit will have a range of visibility that will extend past 30 meters.
The dive guides will tell you that the poorer visibility, a mere 20 meters, often brings the best diving. Unlike the dive sites located near the large land masses, the reduced visibility is caused by an increasing amount of plankton. Whale sharks often follow plankton blooms as that is its primary food source.
Other fish that feed on the plankton will also be seen in increased numbers. As those fish are the food of many pelagics, they increase in numbers as well. Here you have the food chain at work and in full effect.
Also read: When is the best time to dive with Whale sharks in Galapagos?
5. Varied water conditions
The Galapagos Islands are subject to three different ocean currents, each with their own properties. These currents affect the land and water conditions and cause variations in the climates. The strength of the ocean currents become less as it contacts the land masses. Therefore, the effect are less in the northern islands.
When diving around Wolf Island expect the water temperature to be in the mid to high 20°c range. The dive sites on the western and northern portion of Isabela Island will be in the mid 10°c. Here you will find species that thrive in colder waters such as spiny lobsters and the rare Galapagos bullhead shark. A much thicker wetsuit with a hood is needed on these sites. It is like diving off the coast of Maine on one day and the Florida Keys the next.
Bottom Line
The Galapagos Islands are one of the most exciting locations for (liveaboard) diving in the world. Reading about the different conditions, dive locations and species in the island chain brings some of the awe to life that you have seen in documentaries. It is, however, only truly experienced onboard of a liveaboard boat in Galapagos.
Feel free to contact us. We have multiple partners who offer liveaboard dive packages in Galapagos
Article written by Rutger Thole who is an avid scuba diver and loves to travel, dive and write about scuba diving. Based in Amsterdam, he runs bookyourdive.com and at least twice a year he plans a dive trip of the beaten track.