Divers flock to the Mesoamerican Reef off the coast of Mexico making it one of the most dived destination in the world, but Belize is often overlooked.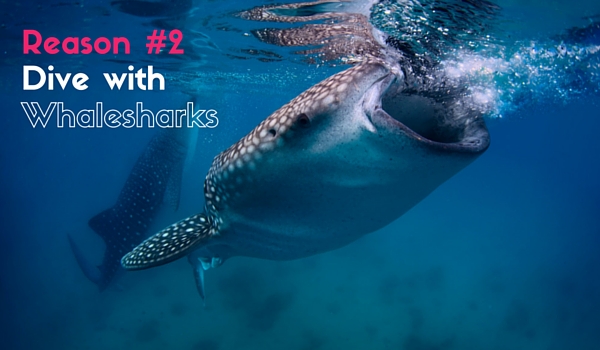 You will often see claims that the Mesoamerican Reef is the second largest reef system or the second biggest barrier reef in the world. That is not 100% accurate. Those claims belong to the Belize Barrier Reef.
The Belize Barrier Reef is a component of the Mesoamerican Reef, making up about 35% of the distance of that reef system but 80% of the overall reef.
The Mexican portion of the Mesoamerican Reef is over-dived and what initially brought divers to the Mexican coral reefs can still be found in Belize.
Here are 8 reasons why Belize should be your choice for an epic dive vacation
Divers might saw the dive sites of the Great Blue Hole or Long Caye Wall on top ten dive site lists, but few had ever dived there.
While Belize is not a "dive only" destination, most of the visitors who come here and stay for a week come for the diving. If you are looking for a dive vacation, that is focused on diving and not just a dive between parties then Belize deserves your close attention.
1. Dive The Great Blue Hole
There are hundreds of "Blue Holes" around the world, but when you say "Blue Hole" everyone knows you are talking about the Great Blue Hole of Belize.
Designated as the Blue Hole Natural Monument, it is a protected dive site that was made famous by Jacques Cousteau. In his television program back in 1971, he declared it the best dive site in the world. Blue hole is located on Lighthouse Reef Atoll.

2. Experience Whaleshark Season in Belize
Whale shark season in Belize is between March and June of each year at the same time as the spawning season of the Snapper. The best chance of seeing these graceful, gentle giants is around the full moon at Gladden Split. As the moon gets brighter, the whale shark's food supply moves towards the surface. Two days before the full moon to about ten days after is the best time to see the whale sharks.
It is possible to get to this reef in around an hour by boat from many of the resorts. Glover's Reef is the favorite atoll of many because of this wonder of nature. Be safe and enjoy, but don't go beyond your skill levels.
3. Explore Two out of Three Coral Atolls in the Western Hemisphere
There are four atolls outside of the Indo-Pacific area, sometimes called the Western Hemisphere Atolls. Of these four atolls, three are found in Belize and are the Lighthouse Reef Atoll, Glover's Reef Atoll, and the Turneffe Atoll.
What is an atoll?
Briefly, an atoll is formed when an island with a fringing reef starts to "sink" because of rising water levels. The corals keep growing and eventually they will grow above the (former) island.
What once was the island is now a lagoon. Coral reefs start building on what was the island's surface. These will develop into patch reefs, and rock outcrops might become pinnacles. The outward side of the old fringing reef has grown to the point that one side becomes a wall to deep water, making it an atoll.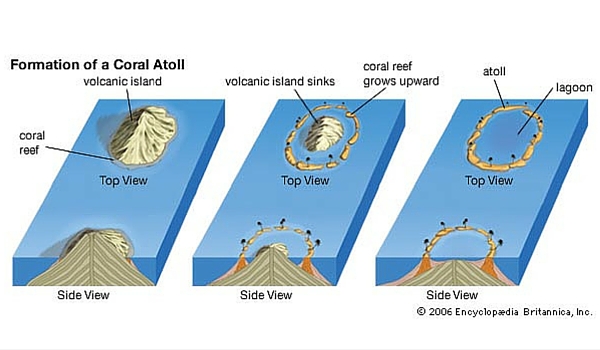 4. Volunteer and Help With Marine Conservation Projects
Many of us enjoy diving but also see the impact that pollution has on our marine environment. There are a few volunteer programs that accept diver's help for their programs. ReefCi is one organization that has research programs around the year covering different aspects of conservation programs.
The Belize Audubon Society (BAS) is another. Yes, I know that Audubon is bird watching. However, BAS are co-managers of the Blue Hole Natural Monument (BHNM) and the Half Moon Caye Natural Monument (HMCNM) which are two protected areas that offer excellent diving.
5. Dive Hol Chan Marine Reserve
This famous marine reserve lies only a short boat ride away from Ambergris Caye and Caye Caulker and is centered around Hol ChanCut, which is a narrow and shallow opening in the barrier reef allowing passage into the lagoon.
Hol Chan Marine Reserve and Shark Ray Alley are small covering a total area of about 7.8 sq km. However, this little area is known as the most popular diving, and snorkeling destination in the country with over 160 fish species and 40 varieties of corals live within the reserve, along with different sponges, marine mammals, and sea turtles.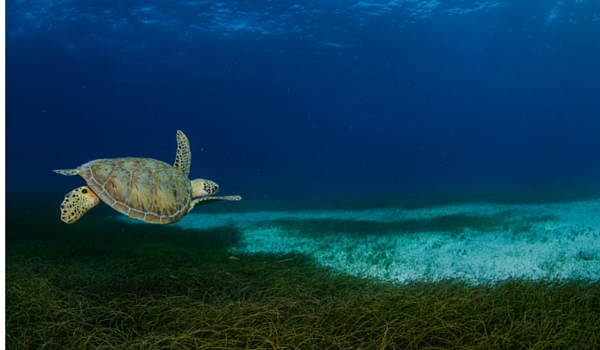 6. Hunt and Eat Lionfish
Kill and eat them all. That might not sound in line with the previous section, but it sadly is. In 1992, Lionfish were observed for the first time in Florida's waters.
Scientists believe that as few as 12 lionfish were released into the waters of Florida and that the offspring of those dozen fish are now in the millions and are pushing other species towards an endangered species category because they eat juvenile fish at an alarming rate.
Lionfish are native to the Indo-Pacific region and the Red Sea but not in the Caribbean. In their native habitat, they are an integrated portion of the food chain. In the Caribbean, they are not.
Also read: 10 facts about the invasive Lionfish in Belize
Grouper and snapper populations have fallen more than 60% in the upper areas of the Caribbean. The price of grouper and snapper in the local markets have climbed and often are not available at all.
In many reefs in the Bahamas, Florida and the central Caribbean countries the lionfish is now a predominant species with no natural predators. A happy, comfortable lionfish, read that as safe and well fed, can lay over a million eggs in a year.
Lionfish have not taken over the reefs yet in Belize, and there is an active movement to hunt them off the reefs. One portion of this movement is to get restaurants to create a demand for them. So do your part hunt and eat lionfish.
7. Combine Belize and Mexico for the Ultimate Scuba Holiday
There are many spectacular dive sites in the Caribbean but few of them can beat the coral reefs, and beautiful underwater coral gardens found beneath the warm, crystal clear tropical waters from Belize and Mexico.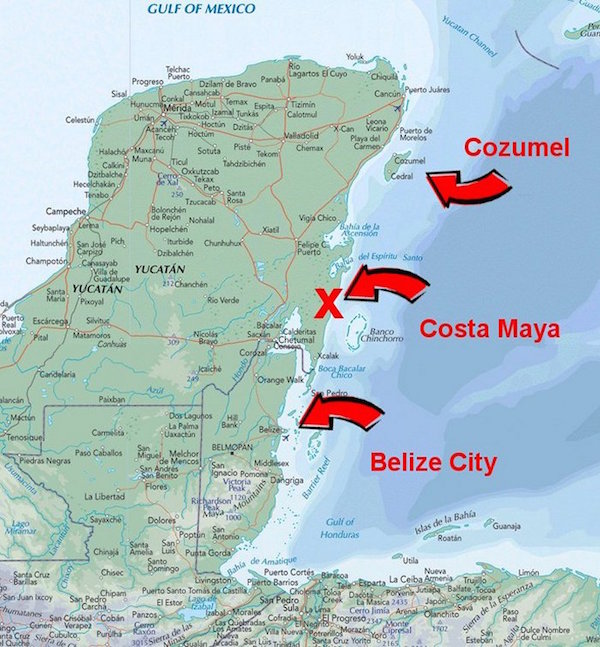 Crossing borders between Belize and Mexico is relatively easy, and lots of divers start off their trip exploring the best dive sites in Belize before heading to the Rivera Maya in Mexico to dive the famous walls of Cozumel and the Cenotes of Playa del Carmen and Tulum.
Just like Belize, Mexico has something for everyone—novice divers can explore the shallow coral gardens close to the shore while more experienced divers can brave the faster currents and dive down in the deeper waters alongside vertical coral walls.
It pays to organize your transfer in advance using a reputable company, as this will help you avoid delays and other travel related issues. You can catch a bus at the Belize City bus station which will bring you to downtown Playa del Carmen. Be prepared for a 10-hour bus trip, though.
Bring cash because you will need to pay an exit and an entry fee. $50 will be enough to cross the borders. The quickest way to travel would be to take a short flight with either Maya island air or Tropic air to Cancun.
If you want to get the most out of a combo trip between Belize and Mexico, plan your trip between November and March as this is the time of year where you can dive with Bull sharks off the coast of Playa del Carmen.
Also read: 5 Must Do Awesome Drift Dives You Should Dive When In Cozumel
8. Visit the town of Placencia in Southern Belize
Placencia is a quiet little beach town with a laid back atmosphere. Placencia village lies south of the Placencia Peninsula and attracts not the amount of tourist that the most famous cayes do. The benefit of Placencia is that it lies on the mainland, so you can stay here and explore the Inland of Belize by car on day trips.
There are multiple dive shops in town, and all have big comfortable boats that will bring you to the dive sites. The dive sites are not as close as on Ambergris Caye. Expect to be on the boat 45 min to an hour before you are at the dive site.
9. Explore the reefs around Caye Caulker and Ambergris Caye
Caye Caulker and Ambergris Caye are two of the most famous islands in Belize and loved by divers from all over the world. The barrier reef itself is fascinating it runs the entire length of Belize, all 175 miles of it, and at times comes up to the surface.
The reef lies no more than 150 meters in front of the shores of Ambergris Caye and Caye Caulker therefore the boat ride to the dive site will not take longer than 10 minutes. Of course, another benefit of diving these areas is that there is much more on offer than just diving, including a vibrant nightlife and good restaurants.
If you are planning a trip to Belize and you would like to stay on Ambergris Caye we can recommend Portofino Dive Resort. This resort run by Sandra en Sjoerd Jan Van Noord will make your trip even more special. Early 2013 Tripadvisor awarded Ambergris Caye as #1 of 10 in best islands in the world
Belize offers more than incredible diving
If you have the time, you should visit the "high rises" of Belize too. In places like Cancun, you will see rows of "High Rise" hotels along the beaches, some with glass elevators allowing you a view. The tallest buildings in Belize does not offer you glass elevators, in fact, no elevators at all.
The tallest building is Canaa (Sky Place), at 43 meters (143 ft) followed by El Castillo at 40 meters (130 feet). Before you get judgmental, consider that Canaa was built around 650AD and the El Castillo around 800AD. These are just two of the main ancient Mayan ruins around Belize.
That said, look over and beyond the typical Caribbean destinations like Mexico and the Bahamas and give Belize a chance, I am sure you will not regret it.

Article written by Rutger Thole who is an avid scuba diver and loves to travel, dive and write about scuba diving. Based in Amsterdam, he runs bookyourdive.com and at least twice a year he plans a dive trip of the beaten track.