For decades, a small number of divers have been enjoying the excellent diving off the east coast of the island of Bohol in the Philippines. A 14-kilometer long reef attracts divers to some small dive centers along the coast from Anda to Guindulman.

Photo credit: Allard van der Graaf
Visit Bohol for world class diving with a few different destinations.
The Anda area is one of these. In the past, this area of Bohol did not see many "regular" tourists, those that came to the area were coming for the excellent diving only.
It where German tourists that showed the world the world class beach that we now know as Boracay, and it where the German divers who first came to the dive sites of Anda on the Island of Bohol
Now their secrets are out, and divers around the world are finding their way to the outstanding diving and the comfortable dive resorts on Bohol in the Philippines.
The dive industry that subsequently emerged was initially simple, as long as the divers had healthy reefs, massive marine life, and excellent visibility with resorts that were clean, comfortable and had outstanding food nothing else was needed. That is still what you will find when you travel to Anda on the Island of Bohol for an epic scuba trip.
The two municipalities (districts), Anda, and Guindulman would be considered rural towns in other portions of the world. Each district has some smaller barrios (villages) that make up the whole. These are separated over a good size area, leaving the area uncrowded.
How is the diving in Anda, Bohol?
The reef runs just offshore, and a few of the dive sites can be explored from shore although most dives are boat dives.The dive sites in Anda are suitable for beginners to advanced divers and anything in between.
Often novice divers and experienced divers can dive at the same location and have totally different dives. The reef run from near the surface to about 20 meters depth. They then drop off to as deep as 35 meters sloping away to deeper waters at some sites.
The top of the reefs have large coral gardens with many species of marine life like:
Turtles
Sharks
BarracudaSquid
Nudibranch
Octopi
Different species of Rays
People say there is a small family of whale sharks that stay year round, sometimes disappearing into the deeper offshore waters but returning before long.
The sheer walls of the reefs provide divers with other chances to see massive coral fans and join pelagics as they follow along the walls in search of food. These walls provide a great buffet for them with selections large and small.
What is the weather like in Bohol?
In Bohol, The weather patterns are slightly different than what is normally quoted for the Philippines. You will often hear that the Philippines has two seasons:
Wet from June to October
Dry from November to May
The trade winds, also called monsoon, are an important factor in Philippine weather. In the Philippines, the Summer Monsoon (West or southwest) is called the Habagat (ha-bag-at), and the Winter Monsoon (North or northeast) is called the Amihan (a-me-han). PAGASA, the Philippine weather service, actually has classified the country into four different weather patterns based on rainfall.
Type one and three are the most common and they are two seasons.
Type two has rain year round but heavier in the wet season of type one.
Type two has rain year round but heavier in the wet season of type one.
Type four has moderate rainfall year round. Bohol has a type four climate pattern.
November to April, the northeast monsoon prevails. Daytime temperatures average 28 °C or 80° F, cooling down at night to around 25°C or 77° F.
While not an official season, Bohol summer season is from May to July, which brings higher temperatures and often humid days. In other parts of the country, May is the month with the highest temperatures, but they drop when the winds change. In Bohol, the winds are slower to change.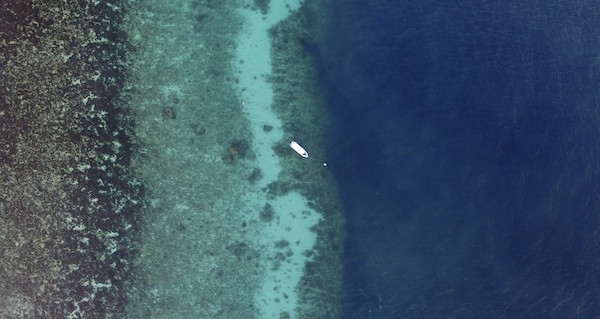 The southwest monsoon moves in during August lasting to October. The weather during this period is mostly calm weather but can suddenly change from weeks of clear, calm weather to days of rain. June to November also represents the typhoon season.
The Philippines is in the Pacific Typhoon belt and gets on average 21 typhoons a year. Bohol is south of the main typhoon belt and on average is impacted by only one typhoon a year. High seas can happen when a typhoon approaches the Philippines. However, they seldom last more than a day or two.
Read more about diving in the Philippines
How to get to Bohol?
The capital of Bohol is Tagbilaran which has a seaport and domestic airport with the airport code of TAG. International travelers enter the country by way of one of the two largest international gateways, Manila or Cebu.
The Province and Island of Bohol is to the east of the Province and Island of Cebu. Sea transportation between Cebu City and Tagbilaran runs frequently and high-speed ferries will get you between them in about two hours.
There are two companies, Super Cat and Ocean Jet to choose from offering a total of 10 departures each day. Fares run from 800 to 1,200 PHP depending on the line and classed book, that is roughly $15 to $20.
There are a number of regular ferries as well that make the crossing in about 5 hours for around 220 PHP or $5.The distance from the Cebu airport to the piers is less than 10 km, however plan for taking 30 minutes due to potential of traffic delays. While it is possible to take local mass transit, a taxi is much easier. There is currently no air transfers between the two islands.
Divers landing in Manila can fly into Tagbilaran direct from Manila on:
Philippine Airlines
Cebu Pacific
Air Asia
There are five flights a day, if you are unable to find an available flight that meets your need, there is the alternative to fly into Cebu and use the ferry to cross. You can also reach Tagbilaran from Manila by ferry.
These ferries have accommodations that range from barrack style ( hundreds of people in one open room) to semi-private cabins to private cabins. The crossing takes 30 hours. They are frequently canceled during the rainy season due to weather conditions. They should also be avoided during holidays as they will be crowded.
How to get to Anda in Bohol?
The distance between Tagbilaran and Anda is about 100 kilometers. The resorts often will include a pickup service included in your stay or for a small fee. Those doing it on their own will find mini-van service a reasonable way. Doa terminal located near both the port and the airport has bus and V-hire service to Anda.
They pack people in very tight, so consider purchasing an extra seat or two for your luggage and get a little extra space. A third option is to hire a private van to take you directly to your resort destination. The rates vary slightly based on the size of the van, but figure 3,000 to 3,500 Php, about $70 to $80.
Get to Anda ASAP
Our best advice about diving Anda? Plan your trip now! It is a true dive destination that the mainstream tourist does not find interesting. It is still uncrowded, and each dive boat carries just a small number of divers. It is a perfect destination for the diver who wants pristine conditions without a crowd.
Feel free to contact us. We have multiple partners that offer dive packages + accommodation and scuba lessons in Bohol.
What are your thoughts about diving in Bohol? Let us know in the comments below
Article written by Rutger Thole who is an avid scuba diver and loves to travel, dive and write about scuba diving. Based in Amsterdam he runs bookyourdive.com and at least twice a year he plans a dive trip of the beaten track.