Ever since I was little, I have magically been attracted by the sea. I just love everything about it. The sound of gentle waves rolling onto the sandy beach at night or noise of high breakers crashing against sheer rock walls during the perfect storm.
Sitting on the boat in the sunshine during a fishing trip or sunset cruise, going snorkeling and lately also kayaking and standup paddling. I have even tried kite surfing, which did not end well, but that is another story.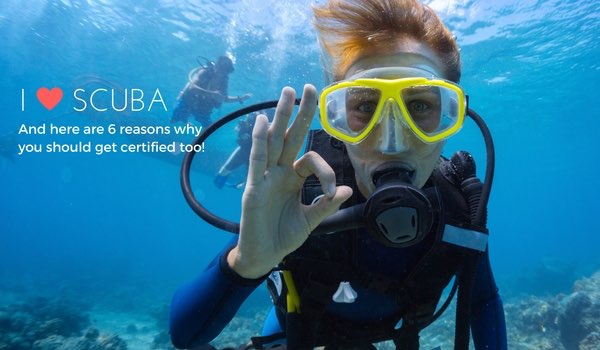 So when I saw divers with their suits and gear, I always wondered, whether this was a sport that was worth the effort of lugging around heavy equipment. And since the sea was already giving me so much, did I need to take it one step further and get scuba certified?
Here are six reasons that have finally convinced me to become a scuba diver. I now am not only a scuba diver, but diving has pretty much become my whole world, and I have never regretted it for one single day.
1. How to learn to scuba dive is so much easier than you think.
Granted, setting up the equipment, that will support your life underwater can, in the beginning, be quite intimidating, but luckily, it is easy to do. So easy, that even a 10-year-old can handle it.
A regular beginners course with one of the major scuba diver training agencies like PADI, SSI or NAUI, will usually take between 4 to 5 days, during which you learn all the necessary skills you need to become a safe diver. So, as you can see, learning how to dive is relatively easy for the right person and the rewards are endless.
Also read: 3 Great Alternatives To PADI You Should Know About
2. Scuba diving gives you more time to explore the ocean
If you like snorkeling and freediving, you will love scuba diving. Granted, you might have to give up some of the freedom of movement that you enjoy as a snorkeler and free diver due to the equipment required for scuba diving, but in return, you are getting a substantial amount of time to naturally explore the underwater world and meet incredible creatures up close and personal.
Just think of your bragging rights on Facebook, when you've met and posted the picture of your first shark underwater! Check out our gallery, and you will see what I mean!
3. Scuba diving is very relaxing
There are very few things in life that are as relaxing as a tropical dive in warm waters. Think about it, leisurely exploring a beautiful reef with its myriads of sparkling reef fish, far away and out of reach from everyday life with its demands and problems, with nothing else to listen to than the sound of your breathing.
4. Scuba diving adds a new layer of excitement and adventure to your life
The more you dive, the more you want to dive, and soon you'll have a bucket list with all the places you want to visit and all the amazing underwater creatures you would like to encounter. Think diving with Manta rays, sharks, whales, dugongs, or even tiny little critters like pygmy seahorses or dancing shrimps.
All of a sudden, your holidays become scuba diving holidays, and you are gravitating towards destinations, you have never dreamed of visiting. Palau for example is certainly not on everybody's holiday destination list but just think about all the new experiences and adventures you will have on the road less traveled.
Also read: How to get scuba certified and why you should
5. Scuba diving makes history come alive
In every ocean all over the world, you will find wrecks that are a testimony of their time, in many cases tragic reminders of war. The Thistlegorm in Egypt, for example, was a British supply vessel carrying supplies for the British troops when during WWII it got hit by a German bomb and sank.
Diving it today is very eerie, since you can still see the trucks and motorcycles, rifles, and rubber boots, and much other wartime paraphernalia, and even a Sherman tank, that never actually made it to the British troops. It gives you a much more immediate insight into the woes of war than any history book ever could.
There are also many historical sites immersed underwater, such as Cleopatra's Palace, complete with Sphinx, which is now submerged in the harbor of Alexandria. Diving these very unusual places, reminders of a time long gone, always sends shivers down my spine.
6. Meet new people from all walks of life and all over the world
One thing that I have always loved about scuba diving is, that is this such a great social equalizer. I have seen people getting along like a house on fire on the dive boat that in regular life would probably do anything to avoid each other. Religion and skin color seem of no importance when you have spotted your first whale shark or dived with a pot of wild dolphin or found yourself in the middle of a school of hammerhead sharks in Galapagos.
The sense of community amongst divers is strong, as you are sharing special moments together that in some cases, you will never forget for the rest of your life. Friendships are formed on dive boats and in dive schools, and you will meet a whole new set of people that will for sure enrich your life.
So these are just 6 reason it is well worth taking the step in becoming a scuba diver. I'm sure, there are millions of other reasons to get into diving, and I would love to hear them, so please feel free to share them in the comments. And remember: you are discovering a whole new world that very few people get to see! Feel privileged! I do!
Feel free to contact us. We have multiple partners that offer dive packages + accommodation and scuba lessons.
Article written by Rutger Thole who is an avid scuba diver and loves to travel, dive and write about scuba diving. Based in Amsterdam he runs bookyourdive.com and at least twice a year he plans a dive trip of the beaten track.