If you are an underwater photographer or a Manta Ray lover, mark your calendar for the 9th Annual Manta Fest Photo Festival being held in Yap, Micronesia from August 27th - September 11th, 2016.
Manta Fest is organized by Manta Ray Bay Resort, and Yap Divers who helped establish the world's first government-backed manta ray sanctuary, which now protects all big animals.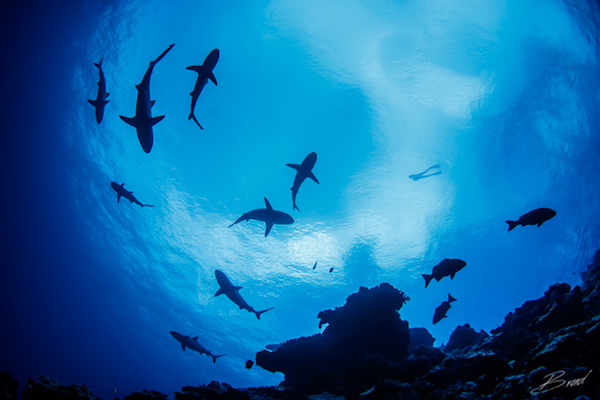 This event combines (underwater) photography workshops, instructions, and tips with a photo contest which is said to have more prizes than photographers.
What is Manta Fest all about?
At the heart of the 9th edition of Manta Fest is the training that is suitable for beginners as well as advanced underwater photographers. Beyond any basics covered in the workshops, there are advanced shooting scenarios and classes teaching advanced techniques. The schedule also allows one-on-one training appointments with the presenters.
There are daily advanced underwater photography workshops on many aspects of underwater photography, with subjects that include;
Shooting split images
Shooting sharks at Vertigo
Big animals in natural light
Low light shark surface shooting
All workshops have custom dive plans to allow you to shoot exactly what you have learned in the classroom.
Also read: Here is Why You Should Go Diving in Yap NOW!
This year there will be five professional presenters that include some of today's top underwater shooters like:
Frank Schneider, contributor of Tauchen magazine
Steven Miller from Ikelite photo school
Andy Schumacher from Schumacher Films in Germany
Ray Bullion and Brad Holland.
"Yap is a destination that is perfect for any level diver / photographer there's something for anybody's style, from the big animals to super macro," says Frank Schneider, who presented at the last 6 MantaFest events.
Come learn from the top underwater shooters in the world, experience great diving and have lots of fun during Manta Fest 2016 in Yap hosted by Manta Ray Bay Resort.
The 2016 Manta Fest photo contest has five categories with DSL users and compact camera users competing separately. Competitors are allowed to submit three images in each category.
These categories are:
Big Animals
Behavior
Land/Culture
Macro
Mandarin Fish
Join Manta Fest 2016 in Yap and win amazing prizes
The grand prize winner will win a ten-day liveaboard trip aboard the luxury vessel navigated by Dive Damai, who offers trips to the most excellent dive destinations in Indonesia like, Komodo, Raja Ampat, Alor, Bali, The Banda Sea, Triton Bay and much more top notch dive destinations.
Also read: Dive Resort or Liveaboard What Should You Choose and Why?
The best in class winner of the DSL users will get to put the shark diving sessions to great use. They will receive a five-day dive and liveaboard package on the Solmar V to Guadalupe Island for Great White Shark Diving.
The winner of the compact camera users gets to return to Yap as they will receive a seven-day dive and hotel package at Manta Ray Bay Resort.
MantaFest is also about experiencing the True Culture of Yap
The people of Yap are very proud of their culture. While Yap is not a primitive country, they have kept much of their ancient culture intact and are very proud to share it with visitors.
Unlike most tourist "shows" their cultural presentations are meant more for their youth as a means of passing along traditions. The organizers of the Manta Fest 2016 photo contest respects and embraces this respect for the culture.
When you would visit Manta Fest you will have some once in a lifetime opportunities to see, participate and photograph cultural events. It is not often you see an event that offers so much, and space is limited so it best to act now if you would like to join MantaFest 2016 in Yap.
Article written by Rutger Thole who is an avid scuba diver and loves to travel, dive and write about scuba diving. Based in Amsterdam he runs bookyourdive.com and at least twice a year he plans a dive trip of the beaten track.