Scuba Diving in Southeast Asia
Scuba diving in southeast Asia offers truly extraordinary opportunities for divers of all levels from around the globe.
It is no surprise that many of the dive sites found throughout Asia, from the Philippines to Thailand, are considered some of the very best on the planet, and divers flock to these areas throughout the year to enjoy the incredibly clear, tranquil waters and abundant tropical marine life.
From reef dives to wreck dives, encounters with wild marine life, wall dives, cave dives, night dives, and more, there is an opportunity for every diver to experience something new and breathtaking in the waters of southeast Asia. And, as can be expected, an underwater photographer will have the time of his/her life, capturing the inherent beauty of the many Asian dive sites.
When is the best time to go scuba diving in southeast Asia ?
Scuba diving in southeast Asia is possible almost all year long, thanks to its typically tropical climate. However, you have to beware of rainy seasons that can bring typhoons and harsh water conditions.
When you determine where you would like to go scuba diving in southeast Asia, consider what its dive season is, and then book your trip accordingly.
For example, Indonesia's scuba dive season is best from April through November, while the Philippines offer diving from January through June and October through December.
Top scuba dive destinations found in southeast Asia
Marine life found when scuba diving in southeast Asia
The coral reef systems of southeast Asia are some of the most diverse, colorful, pristine, and important in the whole world. These waters are perfect for encountering a variety of marine life, from tiny fish to large whale sharks.
It is no wonder, that divers from all over the world love scuba diving in southeast Asia. There are a wide variety of corals of all types, as well as the small reef creatures, sea sponges, and invertebrates that inhabit them.
In addition, divers can encounter everything from rays, eels, various shark species, and octopus, to sea horses, crustaceans, sea snakes, sea turtles, dugongs, and dolphins.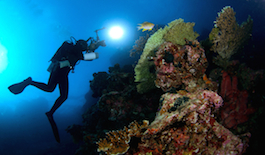 About southeast Asia
Asia is a region of the world that is like no other on the planet. The many countries that form the vast continent each have something unique to offer in terms of culture, cuisine, and things to do during your scuba dive vacation.
Activities range from water sports, such as snorkeling, scuba diving, and swimming, to hiking pristine mountains and rainforests, enjoying restaurants, bars, and dancing, or relaxing on a tropical beach.
There are also many islands throughout southeast Asia that offer the perfect opportunity simply to get away from it all for a while.
So it is no surprise that tourists from around the world visit various countries in southeast Asia to experience a whole new world unlike any they have ever been to before.
How to get to southeast Asia?
You can get to southeast Asia by plane from almost anywhere in the world. But to access some of the more remote islands that are perfect for scuba diving, you may need to get connecting flights from major Asian cities, like Singapore.
Some of the scuba dive locations in Asia are a little difficult to get to because they require that you take a few flights and/or boat rides since they do not have airports. Book in advance to get the best rates and your preferred travel dates.
Your travel time will be determined by where you are traveling from and what area of southeast Asia you are planning on staying in. If you are already in southeast Asia, your journey may be quite short, but if you are coming from the United States, your journey may be quite long.
Article written by Rutger Thole who is an avid scuba diver and loves to travel, dive and write about scuba diving. Based in Amsterdam, he runs bookyourdive.com and at least twice a year he plans a dive trip of the beaten track.