About Scuba Diving Cabo San Lucas
Whether you are an experienced scuba diver or a beginner, you will love scuba diving Cabo San Lucas. The marine national park offers a variety of scuba dive sites that each has something amazing to offer, from shallow to deep dives.
Whether you want steep dives that take you down deep below the water's surface or you prefer to bask in the beauty of marine life, scuba diving Cabo San Lucas has something for everyone.
You can encounter a variety of animal species, including rays, sharks, and seals, as well as intensely coloured coral and abundant fish species here.
When is the best time to go scuba diving Cabo San Lucas?
Scuba diving Cabo San Lucas is usually tranquil and calm, with little to no currents and a steady surface.
The waters are warm, and air temperatures are always warm throughout the year, with summer temperatures rising to 35 degrees Celsius, or 95 degrees Fahrenheit. The average winter temperature is 24 degrees Celsius, or 75 degrees Fahrenheit.
Tropical storms may hit near Cabo San Lucas in the latter part of the summer, so be aware that rains and winds can occur. Scuba diving Cabo San Lucas can be done year round, thanks to the warm air and water temperatures and the calm waters.
Scuba dive sites found in Cabo San Lucas
North Wall – This site is perfect for both beginners and advanced divers. You can encounter moray eels, puffer fish, and porcupine fish, as well as seahorses and lobsters, along this slope.
Neptune's Finger – This site boasts two coral reefs, the biggest sand fall in all of Cabo San Lucas, and a vertical wall, making it the perfect spot to find a variety of tropical fish, turtles, and rays.
Middle Wall – This site has a vertical drop-off of 75 to over 500 feet, plus it also features sharks and rays, and because you can't see the bottom, it is perfect for those who are advanced.
Pelican Rock – Here you will find schools of fish, invertebrates, and rays, and it is a calm, protected site.
Land's End – This is a truly unique site, allowing you to dive both into the Sea of Cortez and the Pacific Ocean, and you can encounter playful sea lions and a wreck here as well.
Would you like to go scuba diving Caba San Lucas? Checkout these scuba dive operators in Cabo.
Marine life found when scuba diving Cabo San Lucas
The abundant marine life in Cabo San Lucas makes it perfect for scuba diving. You will have a chance to explore various dive sites, each offering different marine species, including reefs filled with corals and invertebrates, lobsters, and seahorses.
In addition, there are protected areas that schools of fish call home, including porcupine fish, snappers, sea bass, scorpion fish, puffer fish, barracudas, tuna, and others.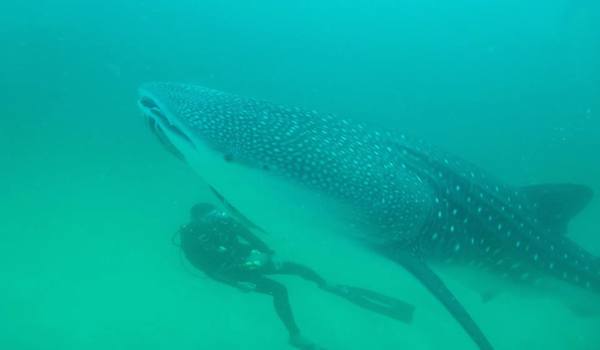 A variety of rays are often seen, including devil rays, Cortez rays, cow-nose rays, and manta rays. California sea lions may end up playing with you in these waters, and you may also have the breathtaking experience of witnessing whale sharks and turtles.
About Cabo San Lucas
Cabo San Lucas is a perfect getaway for those seeking natural beauty and small crowds along with hospitable locals. It is one of the most popular holiday spots where people can go for both relaxation and adventure.
Located at the tip of the Baja Peninsula in the Mexican state called Baja California Sur, it is surrounded by the Pacific Ocean and the Sea of Cortez, making snorkeling, swimming, and scuba diving major pastimes for those visiting the area.
While visiting Cabo San Lucas, relax on the beaches, go scuba diving to observe the variety of marine life, and visit the famous El Arco (Land's End), a natural stone arch that is known around the world as the symbol of Los Cabos.
How to get to Cabo San Lucas?
It is not difficult to get to Cabo San Lucas. One option is to fly into Cabo San Lucas' airport, called Los Cabos International Airport, and then take a taxi or bus ride, unless you rent a car, which takes about 30-45 minutes into Cabo San Lucas. Several major and international airlines fly into this airport, making it an easy destination for people from around the globe. You can also fly into California and then drive down into Mexico from there, enjoying the lovely scenery along the way.
Article written by Rutger Thole who is an avid scuba diver and loves to travel, dive and write about scuba diving. Based in Amsterdam, he runs bookyourdive.com and at least twice a year he plans a dive trip of the beaten track.