About Scuba Diving The Cayman Islands
Scuba diving The Cayman Islands is often classified as one of the best in the Caribbean. With almost 360 scuba dive sites featuring clear, warm waters and over 100 foot visibility, it is no surprise that every scuba diver, from the beginner to the advanced, will never forget venturing into these waters and seeing the diverse marine life here.
Scuba dive sites are found on all three of the Cayman Islands, and you can find everything from wreck dives to wall dives and reef dives.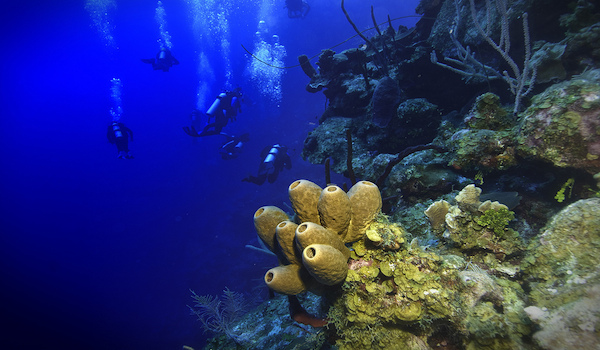 Photo Credit- Kevin Eddy
When is the best time to go scuba diving the Cayman Islands?
The Cayman Islands can experience rough weather, such as hurricanes, winter storms called Nor'westers, and heavy rainfall, so it is important to book your scuba diving trip at the right time of year to avoid rough seas.
The temperatures are hot, with high humidity, so you can expect the waters to be comfortable for scuba diving as well. However, keep in mind that the rainy season runs from May to November, with May and June and September and October being the wettest months.
Because temperatures and humidity peak around July and August, the best time to go scuba diving the Cayman Islands would be December through April.
During this time of year you will find more comfortable temperatures that will allow you to spend time in the sun and enjoy your scuba dive in calm waters.
Scuba dive sites found around the Cayman Islands
Big Tunnels – This site is best for experienced divers who want to follow the deep wall down to a pinnacle that features a swim-through, and it is here that you can experience a variety of corals, eels, and turtles.
Trinity Caves – This is a popular dive site because it features several tunnels and swim-throughs, as well as corals and eagle rays.
Peppermint Reef – This site is great for photographers who want to see the macro marine life and colorful species that frequent this incredible reef.
Stingray City – You can interact with southern stingrays at this shallow dive site, but you can also enjoy the corals and eels that are nearby as well.
Eagle Ray Pass – Catch a glimpse of spotted eagle rays after you pass through a large archway and witness a dramatic vertical drop-off.
Dede's Garden – A tranquil dive site, perfect for beginners, this site features a reef that is home to corals and crustaceans.
Barracuda Ron's Pass – At this dive site, most suitable for advanced divers, you can witness barracuda swimming amidst the coral fingers.
Gary's Wall – If you are an advanced diver, you will love checking out this wall, which is in some of the deepest water on the planet.
Would you like to go scuba diving the Cayman Islands? Have a look at these scuba dive operators in the Cayman's
Marine Life Found in the Cayman Islands
The Cayman's are home to a variety of tropical fish species, rays, and sea turtles, as well as all the sea critters you can expect to see living amongst the hard and soft corals, including all types of crustaceans.
Whether you are on the lookout for various species of rays or want to be surrounded by schools of large and small fish, the Cayman Islands is sure to delight every scuba diver.
About the Cayman Islands
Located in the Caribbean, the Cayman Islands are a British Overseas Territory and a major travel destination for vacationers from all over the globe. There are three Cayman Islands in totally namely: Little Cayman, Cayman Brac, and Grand Cayman.
Each island has something unique to offer, but they are all a little slice of paradise, with warm sunny days on pristine sandy beaches with turquoise, clear waters. With so much to do on the Cayman Islands, you will never get bored.
From swimming and snorkeling at one of the many beautiful beaches to diving, golfing, shopping, or hiking, there is something here for everyone, whether you want to lounge around and be a little lazy or head out and explore. And at night, you can enjoy the nightlife after having dinner at one of the many restaurants available.
How to Get to the Cayman Islands?
Getting to the Cayman Islands is not difficult. Their airports receive flights from the United States, Canada, and the United Kingdom. For example, you can take a short 70-minute jet from Miami, Florida in the United States into the Cayman Islands. Owen Roberts International Airport is located on Grand Cayman while Gerrard Smith Airport is found on Cayman Brac. Inter-island flights arrive and depart from Little Cayman. Or, if you prefer not to fly, you can also get into Grand Cayman by boat.
Article written by Rutger Thole who is an avid scuba diver and loves to travel, dive and write about scuba diving. Based in Amsterdam, he runs bookyourdive.com and at least twice a year he plans a dive trip of the beaten track.