About Scuba Diving Cebu
Scuba diving Cebu is ideal for all levels of divers because of its year round clear waters and abundant marine life. There are many scuba dive sites off the island, and each has unique reefs and underwater sea life, as well as caves, drop offs, overhangs, and walls where coral flourishes.
Though there are not many sunken shipwrecks, you will find reefs and walls brimming with sea life, and that is truly the heart of the experience of Scuba diving Cebu.
When is the best time to go Scuba Diving Cebu?
Thanks to its warm waters scuba diving in Cebu can be done year round. Waters are typically 27-30 degrees Celsius, or 81-86 degrees Fahrenheit, which is perfect for marine life to grow and thrive.
Like the weather in other parts of the Philippines, Cebu's can be unpredictable, ranging from dry to rainy, and stormy with typhoon threats so do keep this in mind before heading off on a dive.
March to May is considered the dry season, which is also hot. The cooler dry season runs from December to February. The rainy season typically occurs between June and November. Watch for typhoons between September and December.
Though Cebu is typically outside the range of the typhoons, overcast skies and rains do occur as a result of a passing typhoon that is hitting other islands in the Philippines.
In terms of visibility, Cebu's waters remain clear despite changing seasons, with visibility ranging from 10m on a bad day to over 30m on good days.
Must see scuba dive sites when scuba diving Cebu:
Umbrella Reef – A small airplane, put in as a dive attraction in 1993, sits on the ocean floor, and a variety of animals now call it home, from shrimps to seahorses and sea turtles.
White Beach – Large, brilliant corals abound here, along with colourful fish of all kinds, and this site is best for intermediate to advanced divers.
Dolphin House – Though there are rarely dolphins here, you will experience a variety of tropical fish species as well as sea turtles swimming about.
Ronda Bay Sanctuary – This is a great site for beginners and you are likely to find a variety of unusual sea life here, and it is a great site for macro life as well.
Tuble Point – Another great site for macro life, if you are an intermediate to experienced diver, you can enjoy the variety of marine life that calls this wall its home.

Tongo Point – Incredible coral line this steep wall, and everyone from beginners to experts can enjoy this dive.
Pescador Island – It is at this site that you will have the opportunity to see white-tip reef sharks cruising below.
Kasai Wall – You may have the chance to see a whale shark at this site, and you can also enjoy small caves and overhangs here.
Marine Life found in Cebu
One of the most attractive marine animals of Cebu are the whale sharks which can be found in more shallow water too making it easy for experienced as well as beginner divers to enjoy their presence in the water.
Other sharks that you may encounter in Cebu waters include the white-tip reef shark and the elusive Thresher shark. You can also experience macro sea life, corals, seahorses, sea turtles, tropical fish ranging from angelfish and butterfly fish to lionfish and barracuda.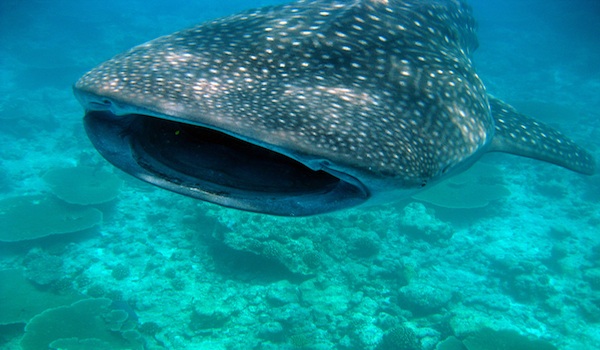 About Cebu
Cebu, located in the southern part of the Philippines, is rich with traditions and history, as well as natural splendor. Visitors can experience everything the island offers.
Besides diving in the water surrounding Cebu is rich with historical architecture including religious museums and a Taoist temple, and its hiking trails into the mountains and forests.
Located in the middle of the chain of Philippine islands, Cebu is home to warm waters, tropical breezes, beautiful beaches, and amazing dive sites and is a great place to visit for a scuba diving vacation.
How to Get to Cebu?
You can get in and out of Cebu by plane. Mactan-Cebu International Airport is an alternative to having to travel into Ninoy Aquino International Airport in Manila. If you cannot find a direct flight into Cebu's airport, you will have to go to Manila's airport first and then take a connecting flight to Cebu.
Philippines Airlines and Air Philippines Express can get you between the two locations in about one hour, and they operate daily. If you would rather not fly, and if you don't mind traveling over sea for about 24 hours, you can take a ferry from Manila to Cebu.
Article written by Rutger Thole who is an avid scuba diver and loves to travel, dive and write about scuba diving. Based in Amsterdam he runs bookyourdive.com and at least twice a year he plans a dive trip of the beaten track.