About Scuba diving Gili Trawangan
As with many other tropical islands, scuba diving Gili Trawangan is available all year round and every kind of diver, from beginner all the way through advanced divers, can enjoy the tranquil waters that are home to a host of marine species.
Because the island is bothered with conserving its beauty and ecology, there are even scuba dive shops that can get you to your dive destinations in an eco-friendly way.
Once at the dive sites, you can enjoy wall dives, reef dives, and more.
When to is the best time to go scuba diving Gili Trawangan?
Gili Trawangan offers tropical temperatures all year long, with some cooling during the night. The rainy, or monsoon, season runs from November to April, but the rains are not as heavy as on other nearby islands. Dry season runs from May through October. The best time to go scuba diving Gili Trawangan, and to enjoy the best weather, is between the months of July and August and December and January.
Average temperatures on Gili Trawangan are between 22-34 degrees Celsius, or 72-93 degrees Fahrenheit, throughout the year. Because the island is warm all year long, with little rain most of the time, Gili Trawangan is a perfect scuba diving destination, where you can enjoy calm, comfortable waters no matter what season you visit.
Scuba Dive Sites Found in Gili Trawangan
Manta Point – This site is perfect for all levels of divers and offers impeccable views of a large reef system with various corals, as well as a chance to glimpse octopus, manta rays, sting rays, and reef sharks.
Halik – Suitable for all levels of divers, this site is great for drift dives and features turtles and corals along the slope and gullies.
**Shark Point – This dive site is good for all levels of divers, and it features canyons that house a variety of larger marine life, including reef sharks, large rays, big bumphead parrot fish, and so much more.
Japanese Wreck – This wreck is of a World War II Japanese patrol boat, but it is only suitable for very experienced divers.

Meno Wall – All levels of divers can enjoy this wall, which features a variety of marine species including many crabs and lobsters.
Would you like to go scuba diving Gili Trawangan? Have a look at these scuba dive operators on Gili Trawangan
Marine Life Found in Gili Trawangan
Countless marine species can be seen when scuba diving Gili Trawangan. Tropical fish species include, but are not limited to, parrot fish, pipe fish, puffer fish, trumpet fish, barracuda, leaf fish, cuttlefish, and frog fish. You can also catch a glimpse of seahorses, rays, eels, octopus, and even black and white tip sharks. You can also find crabs, lobsters, and shrimp at certain dive sites. Scuba diving Gili Trawangan offers some for all who come here to explore the underwater world.
Read more about scuba diving the Gili islands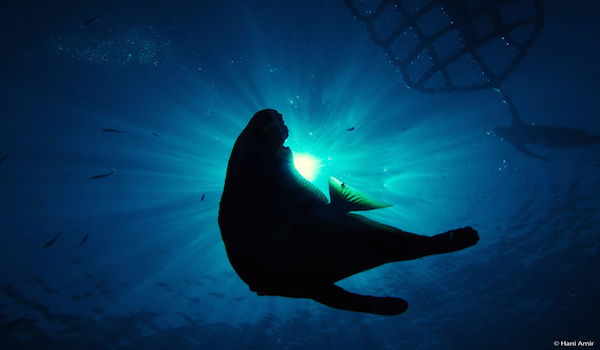 About Gili Trawangan
Gili Trawangan is the perfect getaway for anyone looking for sun and sandy beaches in a very relaxed atmosphere with friendly and accommodating locals. It is the largest of the Gili islands, all part of Indonesia. People flock to this island from all over the world to take in the natural beauty of the crystal clear, warm waters. Here you can swim, snorkel, scuba dive, take boat rides out into the sea, or go horseback riding on the beach.
In addition, there are many dining opportunities to get a taste of the local cuisine and plenty of shopping to do if you are looking to bring something special home with you as a souvenir.
The nightlife here is exciting, and you can dance under the stars at one of the island's bars, which attract locals and visitors alike. There is so much to do and see on Gili Trawangan, and therefore it is no wonder it is one of the best (scuba) destinations in South East Asia.
How to Get to Gili Trawangan?
Lombok has an international airport that receives domestic flights from Surabaya, Jakarta, and Denpasar, but you can also arrive there from Singapore. You will then need to take a taxi ride, which will last approximately 1½ hours, to Bangsal Harbour, and then hop onto a ferry that will take you Gili Trawangan. This boat journey will take you about 35-40 minutes.
To get to Gili Trawangan from Bali, you can take a fast boat, which takes anywhere between 1-2 hours, and these run daily. You can also leave Padang Bai in Bali by ferry and arrive in Lembar in Lombok in about 4-5 hours. Then you will take a series of buses, to Mandalika and then to Tanjung, before getting off at Pamenang before taking a horse cart to Bangsal Harbour.
Article written by Rutger Thole who is an avid scuba diver and loves to travel, dive and write about scuba diving. Based in Amsterdam, he runs bookyourdive.com and at least twice a year he plans a dive trip of the beaten track.