About Scuba Diving South Africa
Scuba Diving in South Africa is renowned because of its long coastline that is 3000 kilometres long and offers hundreds of dive sites. The eastern shores of South Africa are heated by the Mozambique current which helps nurture thousands of species of coral, fish and water mammals. The chillier west side and the waters near Cape Town boast beautiful waving forests of kelp.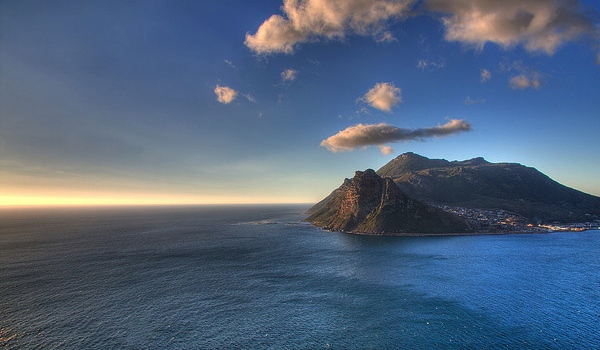 Both sides of the Cape are filled with luxury resort hotels including ones that offer all inclusive scuba diving trips which include trips out into the ocean fields to drop you off at remote dive sites. You can also experience shark and cage diving to encounter different kind of shark species like: Great White Sharks, Tiger sharks and many more.
Many resorts also offer guests safaris into the nearby savannahs, mountains and deserts to view African wildlife in its natural habitat. The combination of wildlife above and below the surface make South Africa the perfect destinations for a scuba vacation.
Scuba Diving South Africa
The west side of the Cape features warmer waters which are teeming with marine life. On the east side, the waters are colder and within the chilly waves are some of the most spectacular kelp forests in the world. Beneath the kelp, you will find a thriving world of sea life, and many have compared the diving experience on the east side to taking a stroll beneath a well-canopied forest.
Another distinct feature of waters near the cape are the brilliant colored anemones that range in color from electric blue to lime green to bright pink to a royal purple. Sponges in the area tend to be a vivid pink, orange or sulphur yellow. Most dives in the area are drift dives, so expect to-do a great deal of travelling with the current.
If you want a spectacular night diving experience then go on a night dive to Sodwana Bay. Here you will find a large array of coral and glowing exotic fish. Near Johannesburg, there are abandoned quarries where beginners can learn the basics of scuba diving.
When is the best time to go scuba diving South Africa?
The best time to go scuba diving in South Africa is from March to April when the waters reach 30oC however the water temperature is not exactly cold at 20 degrees in the winter months.
Here are some other tips when you are planning to go scuba diving in South Africa:
**To dive with Great White Sharks and other shark species you should travel to South Africa between May and October
The best time to see whales, including Humpback whales is between August and October
The best time to see whale sharks is on the west coast in the Mozambique current in January
**The best time to be part of the Sardine Run is from May through July when billions of sardines pass the coast of South Africa
Check out this infographic about: The Science Behind Great White Shark Predation in South Africa
Top Scuba scuba dive sites of South Africa:
Cape Town – In the area just off Cape Town you can scuba dives with Cape Fur Seals and observe Broadnose Sevengill Sharks.
Gansbaai – Off the beaches of this small resort town you can descend in a cage and dive with Great White Sharks.
The Eastern Shore – The scuba dive sites of Port Elizabeth, Plettenburg Bay and Mossel Bay feature many ancient and sunken shipwrecks as well as the remains of an identified large vessel that sank many years ago.
Durban and Umkomaas – The coral reefs in this area grow on fossilized limestone and the area also boasts a huge fossilized dune with many wrecks and numerous reef fish. You can also see Sand Tigers and Bull Sharks.
Sodwana – This area has a dramatic entry point that features rushing surf as well as unusual overhangs, plate coral, long branches and clusters of coral that look like mushrooms.

Check out this article about: The best scuba dive sites in South Africa from Aliwal Shoal to Sodwana Bay.
Marine Life found in South Africa
Great White Sharks
Kelp forests
Whales
Whale sharks
Bull Sharks
Tiger Sharks
Dolphins
Turtles
Manta Rays
How to Get to South Africa?
The airport in Johannesburg is served by most major airlines from most international airports in the world. It is a seven-hour drive from Johannesburg to the famous Sodwana Bay.
You can also reach most destinations by flying into Richard's Bay from Johannesburg on a chartered plane, or you can land right on the grass airstrip in Sodwana Bay. South Africans are exceptionally friendly and helpful and can recommend the best ways to get to different dive sites on the coast.
Article written by Rutger Thole who is an avid scuba diver and loves to travel, dive and write about scuba diving. Based in Amsterdam he runs bookyourdive.com and at least twice a year he plans a dive trip of the beaten track.